What are Blogging Apps?
While blogging is first and foremost a hobby, it also requires some commitment. Once you've developed a blogging habit, you're all in. This implies that you constantly strive to provide original, high-quality content and make efforts to grow your viewership.
But remember that managing a profitable outlet requires more than good writing. You quickly discover that even a natural-born blogger might use some assistance with matters like comprehending how search engines function or honing an eye for excellent graphics after setting up a free site.
Fortunately, there are tutorials on establishing a blog online that can help, and they're even free! Any writer, from the absolute novice to the most experienced, can benefit from them. Using these tools, you can focus on creating your next ideal blog post while saving time and effort.
You may express yourself and share your knowledge and experiences online through blogging. You blog when you want to share your world with others, whether it be about fashion, lifestyle, or business. With your postings, if you blog in this era of digital information. Whether you're too busy or tired of being a committed blogger is irrelevant. You must fulfill your obligations and act consistently.
Features of a blogger:
Every Blog Should Be Dynamic
Reverse Order Is Used to Display Posts
Most blogs follow the same format
The blog's content is its shining star.
Headlines Should Be Captivating
All blogs Must Adhere to One Rule: Relevancy
Links and Blogs Walk hand-in-hand
Pros.
Creating a blog is simple.
A blog encourages visitors to your website
It may promote a feeling of community.
A blog serves as a living repository for creative materials.
The reach may be unique.
Cons:
An excellent blog must be updated frequently.
Too much honesty can get you into trouble.
As a mirror of your company, a blog shouldn't be created carelessly.
Technical challenges that are not anticipated can add delay.
List of 10 Best Blogging Apps Every Blogger Should Use:
With all of these options, you have a wide variety of apps to choose from. Finding the apps that are the most convenient for you will take some time. However, we will offer a few names we think you should try.
1. Blogger: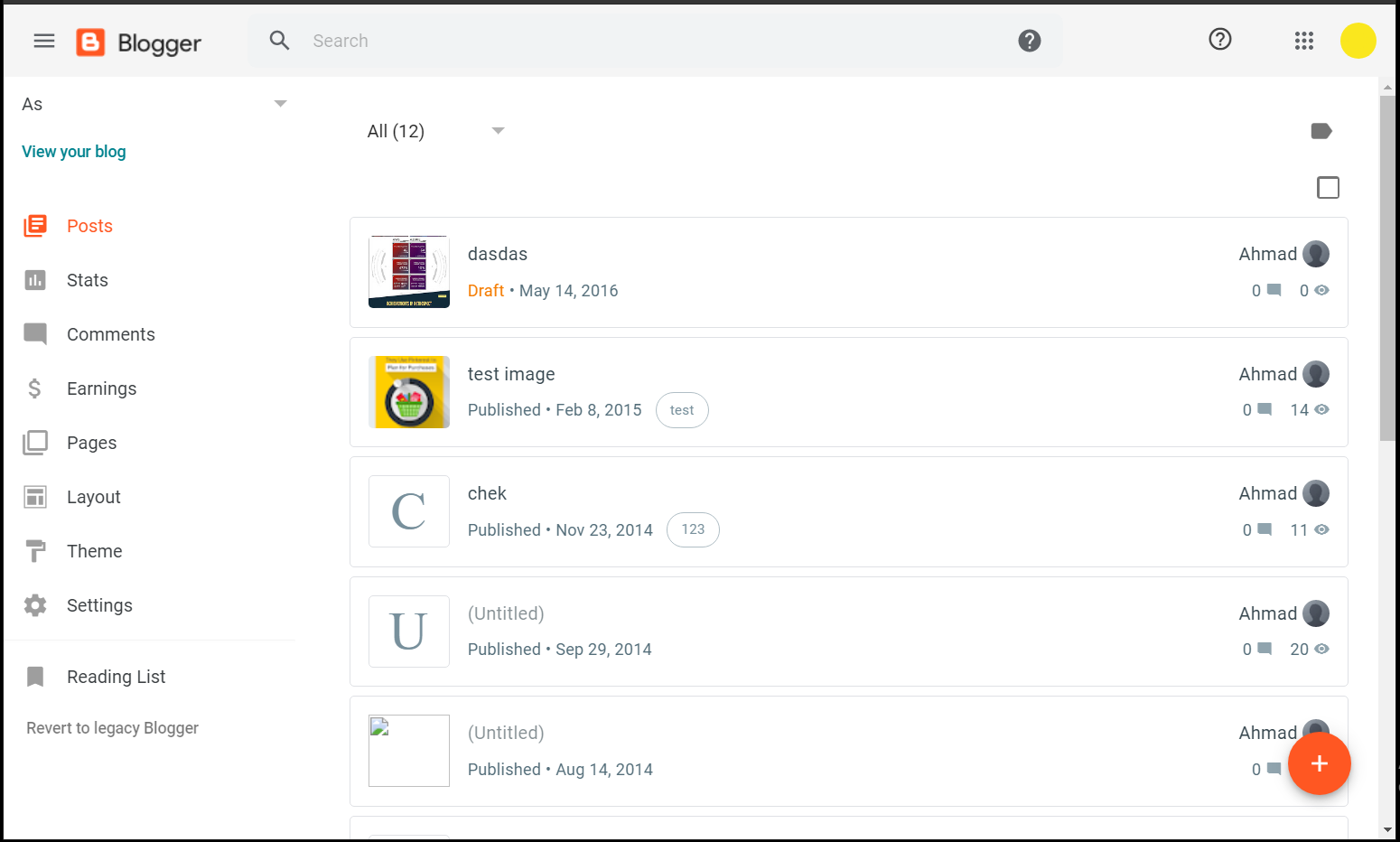 One of the first free blog platforms was Blogger, albeit its use has declined recently.
Although it's a good option for personal blogs, it's not the finest tool for business use. Like other hosted platforms, you must establish an account to utilize this one. You must choose one of the pre-installed themes after creating it (which is easy), at which point you may begin jotting down your ideas. The editor on this platform resembles a Word page, while the user interface is comparable to a Google+ profile.
Many themes are available from Blogger, each offering multiple skins, sophisticated color filters, and various minimalist gadgets (aka widgets). But nothing too elaborate or with sophisticated customization. Blogger often offers straightforward design options, which keeps the emphasis more on the text portion. One appealing feature of this website is that you may insert advertisements inside your material.
2. Quora: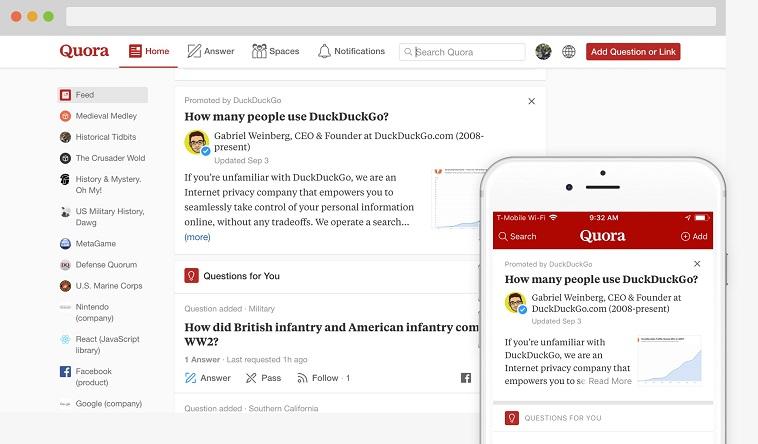 Bloggers, affiliate marketers, SEOs, and internet marketers may learn and exchange knowledge about any subject or topic on Quora, a Q&A (Question and Answer) website. People use Quora to read customized, high-quality information pertinent to their requirements. At the moment, Quora counts 300 million monthly users worldwide.
The Quora app is for you if you want to increase traffic to your blog, expand your audience, find other great bloggers, and network with them.
Keep in mind that to attract relevant visitors to your website, you must first create insightful responses to the queries of other bloggers before including a link to your website.
The best thing about Quora is that you can learn from reliable experts with first-hand experience while also following the topics that interest you, asking questions, and receiving answers.
3. LastPass: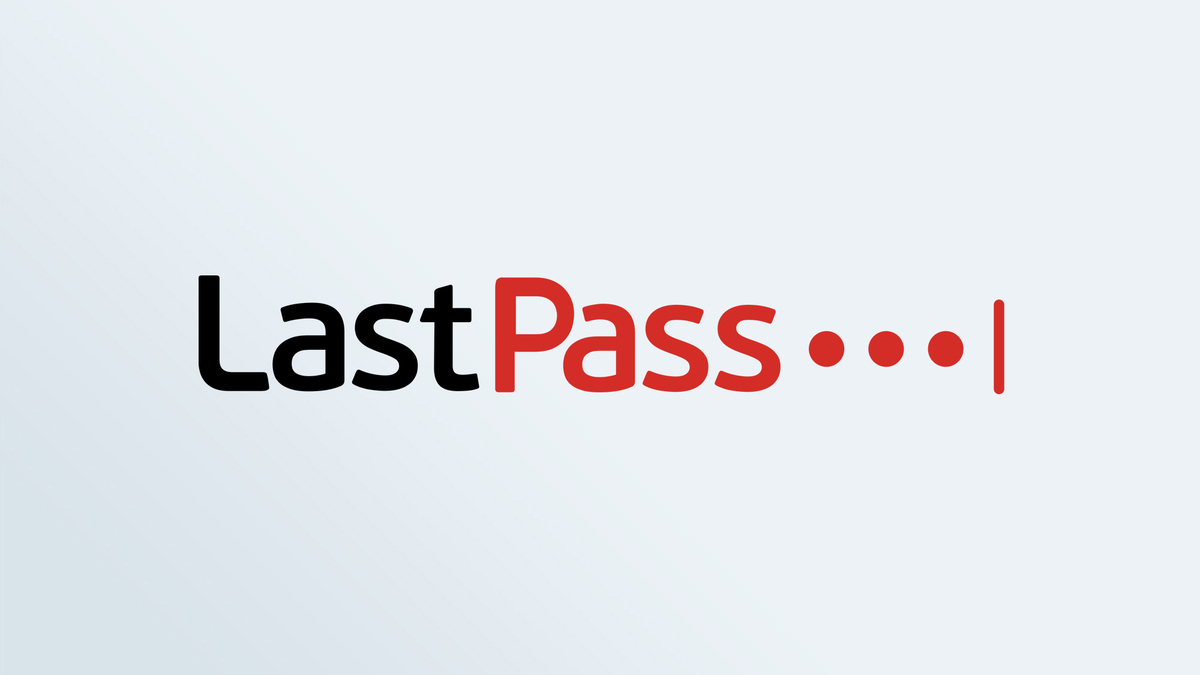 If you have never needed to reset your accounts because you forgot some of your passwords, raise your hands in the air. Bloggers manage so many passwords that it might be simple to forget some of them, from social network passwords to domain registrar and web hosting passwords, not to mention CDN and other credentials.
The best blogging app for you is LastPass if you frequently forget your passwords or are concerned that they might end up in the wrong hands. It's one of the best password managers to keep your passwords safe.
Most online browsers, including Google Chrome and Firefox, allow users to save their login information by default so that the browser will automatically fill in the username and password the next time you wish to access a website. This technique occasionally exposes your passwords to hackers.
Thanks to LastPass, a password management service specifically designed for bloggers and other internet workers, you won't have to worry about compromised accounts.
4. WordPress: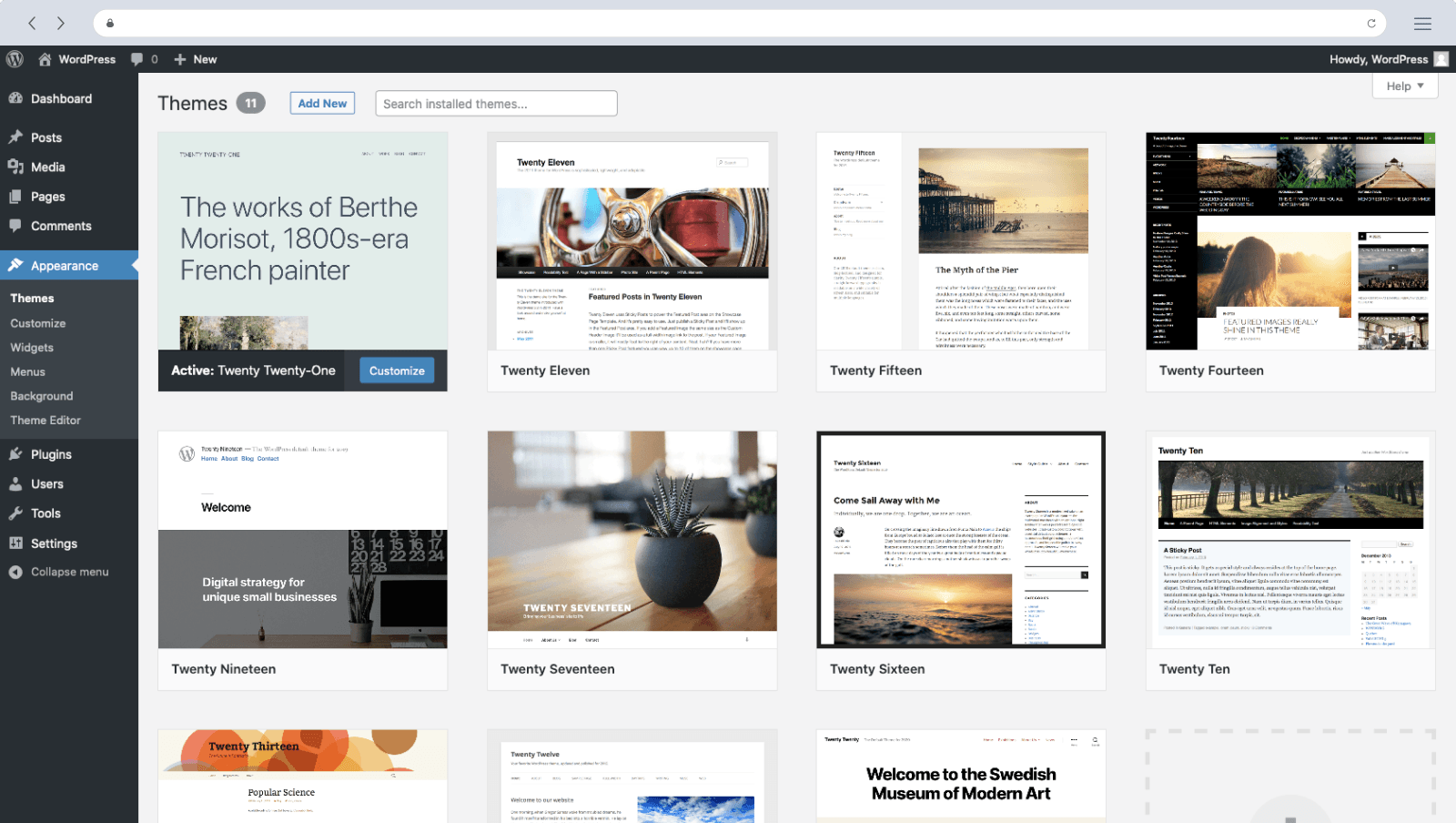 One of the top mobile apps for bloggers is WordPress. On the blog, new posts can be rapidly written, edited, and published. WordPress also allows you to rapidly publish recent posts, amend existing ones, upload media, and track website statistics, visitor behavior, and site usage.
Both blog management and comment replies are available. It works best for users who like to manage their web pages on their mobile devices or tabs rather than relying on computers. You may work efficiently on your mobile device when you are on the go without bringing a laptop with you.
The most recent updates have fixed issues and made the system more stable. This program lets you do whatever you want and functions like a live WordPress dashboard. You may save your blog entries as projects, publish posts immediately from Android or iOS devices, and respond to reader comments on your postings.
To learn how many people have visited your blog and which nations send you the most readers, look at the page views on your blogs. Afterward, right from your Android device, administer and construct your WordPress blog or website. You can now publish your work without a computer, thanks to WordPress for Android.
5. Tumblr: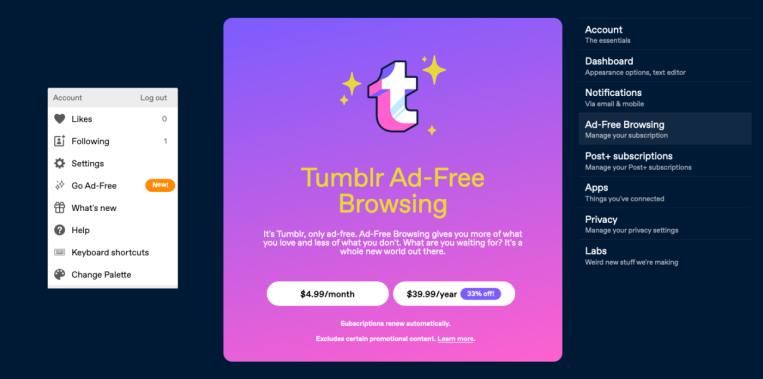 Using Tumblr makes blogging enjoyable. Additionally, Tumblr allows you to express yourself, learn about yourself, and connect with people who share your interests. On Tumblr, you may connect with people who share your interests, whether they are in fandoms or philosophy.
Post images, music, video, links, quotes, or written content; there is plenty to learn. You can create your GIFs and add whatever text and stickers you desire to them.
You can truly alter the layout, colors, and fonts on your Tumblr. Follow the subjects that interest you, and you can even learn about something you had no idea existed. You may also interact with the community by sharing your experiences and discovering how to improve your posts.
Microblogging on Tumblr is more popular because posting brief entries with quotations, photographs, or videos is less expensive. You can arrange a post, publish content, view messages, and reply to them. Additionally, you can simultaneously manage multiple blogs. Your Tumblr postings are significantly more distinctive than your posts on other networks in terms of appearance.
6. BlogTouch: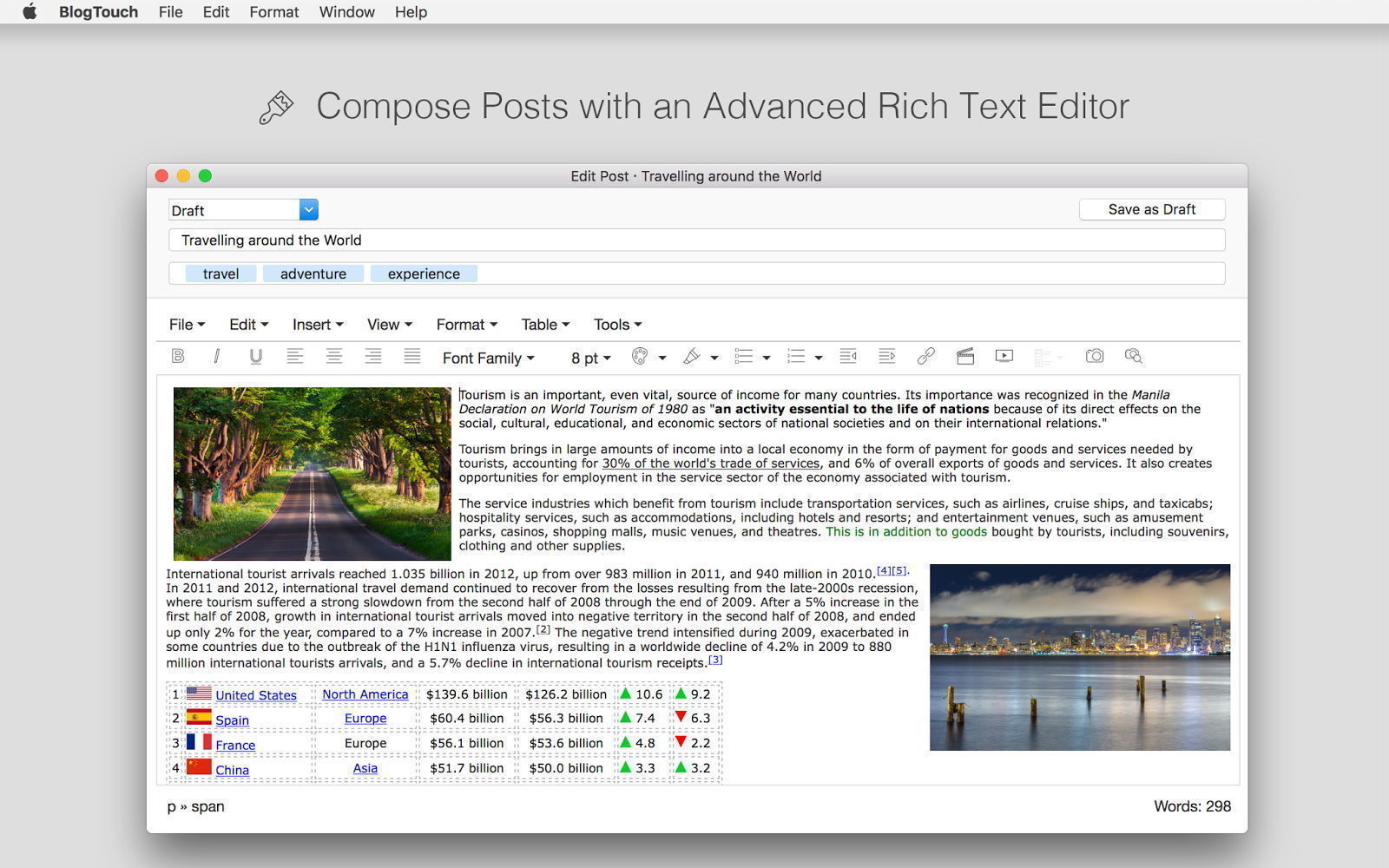 All WordPress bloggers can use the robust and user-friendly BlogTouch blog editor. This program does all tasks necessary to manage a sizable number of blogs on your device. With these features, you may edit and delete any posts, pages, and comments just as you can in your WordPress dashboard.
Even the posts you want to publish later can be scheduled. If you travel regularly, the BlogTouch app on your iPad/mobile will make your job much easier. Using the app's work privacy features, you can set an application password and secure your data from loss. Therefore, BlogTouch is the program for you if you're seeking a blogging tool with outstanding capabilities that is simple to use.
Numerous valuable features of BlogTouch include a simple uploader for photos and videos, support for emojis, scheduled publication, social networking site integration, sharing options, geo-tagging, local preview, password protection, and more. As a result, BlogTouch is an iDevices blogging program with all the features.
7. LinkedIn: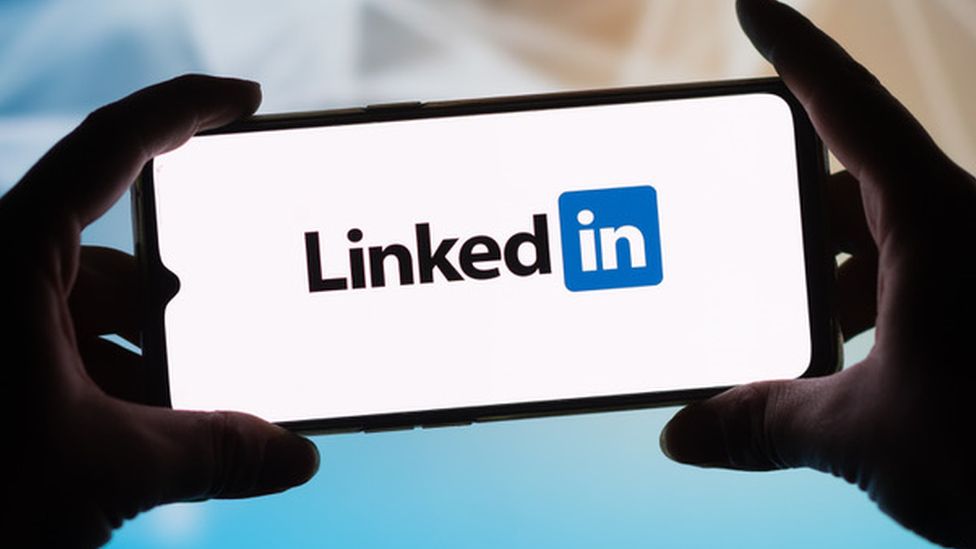 This one undoubtedly caught you off guard. Most people don't choose LinkedIn as their first preference when deciding which free blogging platforms to use. It merits some attention! Tools that are simple to use and an established audience are the two leading causes of this.
LinkedIn's user base is fantastic regarding the audience because it consists primarily of highly focused professionals and business owners.
In fact, according to reports, LinkedIn is used by over 30 million organizations. They also aren't just there for show. According to other data, 94% of B2B marketers use the platform as a primary lead source. Said, LinkedIn serves as a platform for exposure, making it one of the greatest free blogging platforms available.
Technically speaking, publishing on LinkedIn is simple. The page by going to your LinkedIn feed. Turn your status into a full post.
8. Ghost: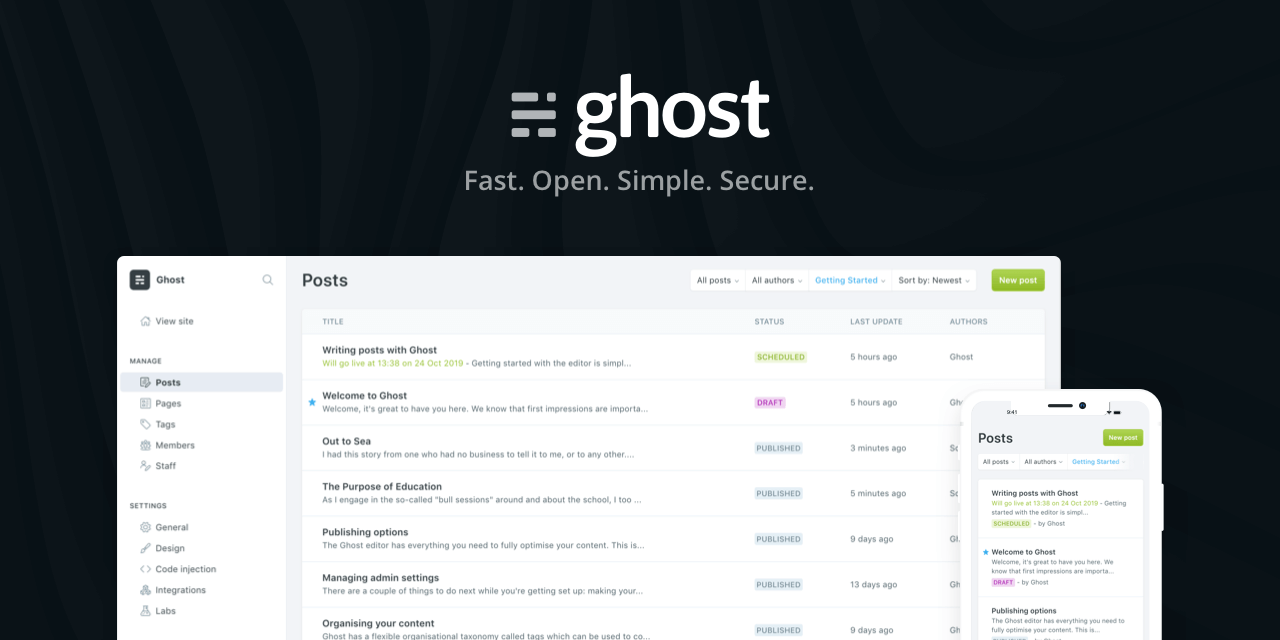 This is another blogging platform that resembles WordPress. Although you can download the Ghost software for free, you must pay for hosting to run it. Ghost is supported by DigitalOcean, a fantastic affordable service that offers many useful features right out of the gate.
The disadvantage is that installing Ghost is more complex than installing WordPress, and depending on the host you select for your site, you may need to get your hands dirty with some server work.
Once your website is set up, creating a post in Ghost is simple. The editor is straightforward and understated, and on the right side of the screen, it provides a live preview of your writing. It's nice because the front end gives off a Medium vibe. There is a sidebar with settings next to the editor screen to select your preferences.
9. Grammarly:
One of the top applications for proofreading currently available is Grammarly. Their premium service is amazing; I've used it before. Users can customize the application's recommendations for how to enhance their writing by selecting the audience, tone, and other parameters.
It considers details like who the audience is, what you want to accomplish (educate, entertain, and others), and even checks for plagiarism. It also checks for punctuation, spelling, and grammar errors. A writer's best pal!
10. Joomla: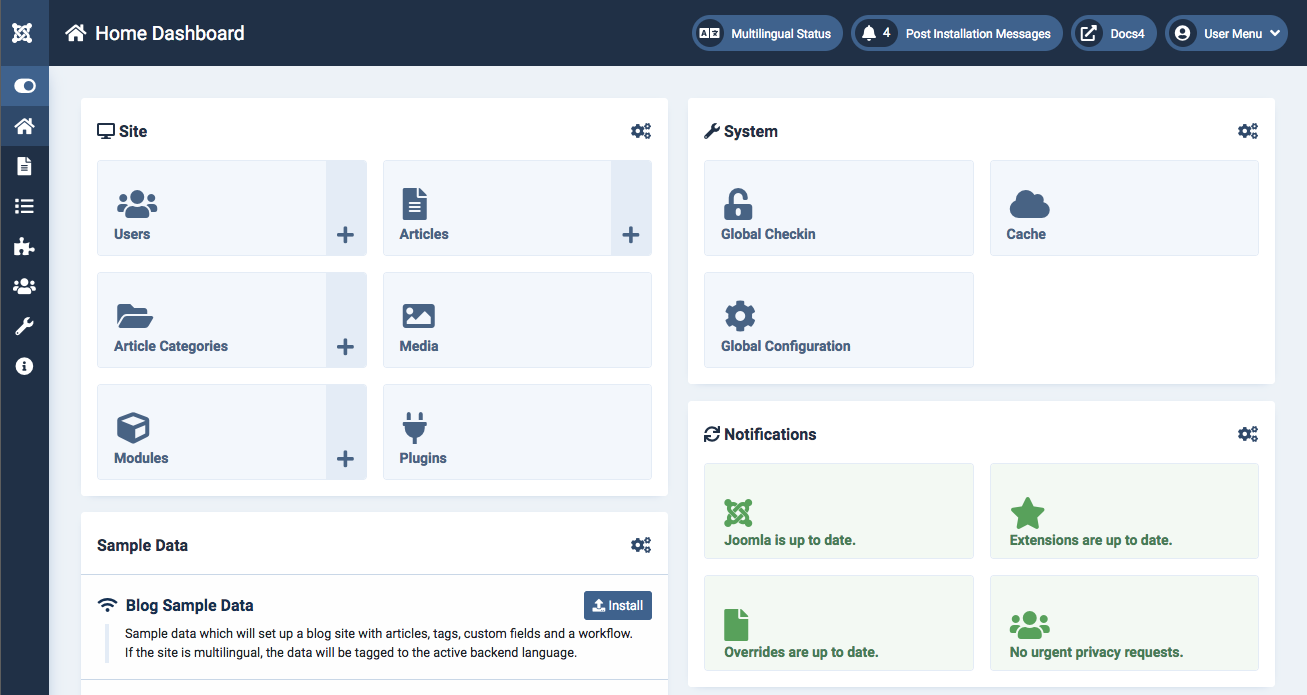 Joomla is comparable to WordPress.org but less obvious than other free blog platforms. The free software requires hosting and a name, just like WordPress. As with WordPress, we suggest Bluehost because it is affordable and dependable (including a free domain).
Generally speaking, Joomla features a versatile interface that can be utilized for more complicated websites and blogs (you can choose from various templates and extensions to add custom functionality).
The platform offers a dated editor that somewhat resembles Microsoft Word in terms of usability. You can customize the typeface by selecting its color, size, emoticons, tables, and backdrop. The menu's tools give the impression that you are working in a Word window.
Conclusion:
There are millions of blogs on the internet, and the easiest way to start a successful blog is to utilize your blogging platform as much as possible. Because they make managing your blogs, social media accounts, emails, and other internet accounts straightforward, blogging applications are helpful in this situation.
So, which blogging apps do you like most and think everyone should try? Have we forgotten any of your go-to free blogging apps?