Have you ever encountered an issue with your computer sending automated Google queries? Many individuals have reported this issue and receiving an error notice that says, "We're sorry, but your machine or network may be sending automated requests" may be inconvenient. To protect our users, we are unable to carry out your request at this time.'
When Google detects odd behavior on your computer, it displays this error message and prohibits you from searching online. You will be unable to use Google search or read captcha forms on your screen to determine whether you are human after receiving this error notice.
There may, however, be a solution to your Computer Sending Automated Queries or Requests. To fix this error message on your PC, look over the remedies in this guide.
Sending Automated Queries could be one of the best ways to fix your computer
The reason for your computer's automated inquiries is as follows:
This error notice, according to Google, is triggered by suspicious automated search queries done by any app installed on your computer, as well as spyware and other intruders.
Google may limit your IP address and prevent you from using Google search because it detects your IP address when you send automated traffic to Google. We'll go over some of the strategies that can help you fix your computer, including sending automated queries:
Method 1: Scan your computer for viruses
Because malware or a virus could be the source of your computer's automated requests, the first thing you should do is perform a malware or antivirus scan on it if you want to learn how to stop your computer from sending automated requests. On the market, antivirus software is readily available. However, I recommend utilizing the antivirus software recommended below for a malware scan.
a) Avast Antivirus: You can download the free version of this software if you don't want to pay for a premium subscription. This software is quite good at detecting malware and viruses on your computer. The company's official website has a download link for Avast Antivirus
b) Malwarebytes: Malwarebytes is another free option for scanning your computer for infection. Malware that you don't want on your computer can be easily uninstalled. After you've installed any of the software indicated above, follow these steps:
Use the software to perform a thorough scan of your machine. You must be patient as the procedure may take some time.
If any malware or virus is discovered following the scan, ensure that it is removed.
Restart your computer after uninstalling any unwanted adware or viruses, and the Google captcha problem should be resolved.
Method 2: Delete Unwanted Registry Items
Some users may find that cleaning the Registry Editor and removing unnecessary entries helps them resolve the automated queries error on their PC.
To begin, open the run dialogue box. Using the search bar in your Start menu or pressing Windows key + R will launch Run.
Type Regedit into the run dialogue box and hit enter.
Select YES when prompted by the message "Do you want to allow this app to make changes to your device?
Navigate to Computer > HKEY LOCAL MACHINE > Software in the registry editor.
Select Microsoft from the drop-down menu.
From the Microsoft drop-down option, choose Windows.
Click RUN, then CurrentVersion.
The complete position of the Registry key is as follows:

Computer\HKEY_LOCAL_MACHINE\SOFTWARE\Microsoft\Windows\CurrentVersion\Run

Except for the following, you can delete the unwanted items after you've traveled to the address:
Entries pertaining to your antivirus program
SecurityHealth
OneDrive
IAStorlcon
You can eliminate the entries associated with Adobe and Xbox games if you don't want them to run on startup.
Method 3: Use a Different Browser
You can use a different browser if your computer is sending automatic Google requests. Opera is one of a number of reliable and safe browsers on the market. This browser is straightforward to set up, and you can import your Chrome bookmarks if you like.
You also get built-in features like antivirus, anti-tracking, and a VPN program that you can use to hide your location. When your computer sends automatic requests, Google detects your true IP address, which the VPN can help you hide.
However, let's say you favor Chrome and don't want to install anything else.  In that situation, you can continue to use Mozilla Firefox until your machine stops sending an automatic captcha error.
Method 4: Complete the Captcha
Google will prompt you to solve the captcha to distinguish between humans and bots when your computer conducts automated requests. You will be able to bypass Google's restrictions and use Google search as usual after completing the captcha.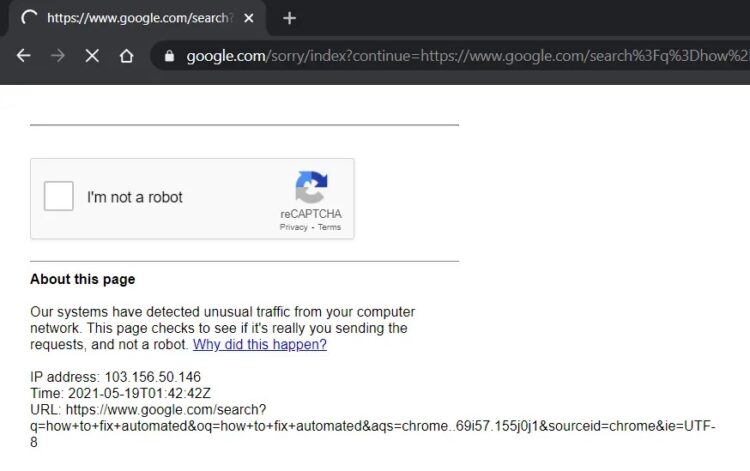 Method 5: Reset Your Router
Rebooting your router can help you remedy the issue if your network sends automated queries to your computer on occasion.
Unplug your router for around 30 seconds before reconnecting it.
Plugin and turn on your router after 30 seconds.
Check to check whether the problem has been resolved after restarting your router.
Q1. What should I do if my computer sends out automatic queries?
You can evade the limits by changing your browser or attempting to solve the captcha on Google if your machine is sending automated queries or traffic to Google. The automatic queries could be sent by some unnamed software or app on your computer. As a result, uninstall any unnecessary or questionable software from your computer and run an antivirus or malware scan.
Q2. Why am I receiving the following Google error message?
It reads, "We're sorry… However, it's possible that your machine or network is sending out automated inquiries. We are unable to process your request at this time to protect our users.
When you get an error warning about automated Google searches, it means Google has detected a device on your network that is potentially sending automated traffic to Google, which is against the terms and conditions.
Final Thoughts 
I hope this lesson was useful in resolving your Computer Sending Automated Queries issue. Please post any additional questions you have regarding this article in the comments area.