Staying safe on the road should always be front of mind for drivers, but accidents do happen even when you're paying attention. They're usually not your fault, but knowing that is one thing; proving it is another. It pays to have a dash cam installed in these instances.
A dash cam, often known as a dashboard camera, records the road in front of you and, in some cases, behind you. Automatically recorded footage is saved to an internal memory card, which can then be duplicated to an external drive or computer. If a collision occurs, the police and/or insurance companies may examine dash cam footage to identify who was at fault.
Dash cams are beneficial in a variety of situations, not simply accidents. They can also assist in the prevention (and prosecution) of thefts. While motion is detected nearby, features like Parking Mode instantly activate the camera, allowing recording of would-be car prowlers and vandals even when the vehicle is switched off.
Hundreds of dashboard cameras are available, each claiming to be "the greatest." Today, we're taking a careful look at a number of the most popular dash cams on the market to see which ones are genuinely the best dash cams for 2021.
1.Best Dash Cam: Rexing V1-4K
For good reason, the Rexing V1-4K is one of the most popular dash cams on the market. With high-resolution recording, a wide-angle lens, and advanced features like parking mode and a G-force sensor that can detect crashes, it's a superb all-around choice. Despite its long list of capabilities, the Rexing is inexpensive, making it a viable alternative for a wide range of drivers.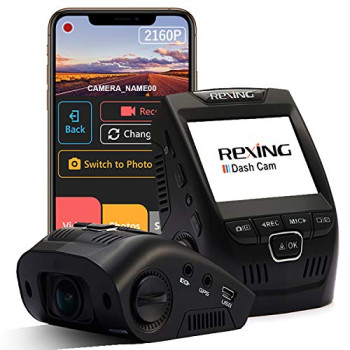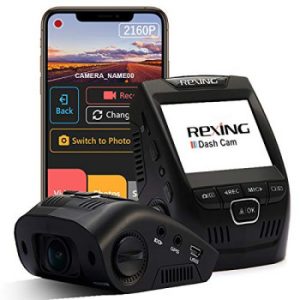 The OV4689 sensor in this model boasts a wide dynamic range and can record in up to 2160p resolution, ensuring crystal-clear video and strong low-light performance. The 170-degree lens also captures a large field of vision, ensuring that nothing vital is missed.  The 24/7 parking monitor activates whenever motion is detected nearby, even when the vehicle is turned off and the camera is turned off.
It will then record for 20 seconds, allowing you to catch a vehicle prowler or a hit-and-run without draining your camera's battery. To activate parking mode, you'll need to purchase and install a separate (inexpensive) hardware kit. The V1 continuously overwrites prior video on a loop as needed during typical use.
However, if a collision happens, collision detection technology ensures that the footage is automatically secured, ensuring that it will remain available. SD cards up to 256GB (available separately) are supported by the V1, allowing you to add plenty of storage space for most situations. The Rexing V1-4K, like most dashcams, has its own little power supply that it uses when vehicle power isn't available.
For this, cheaper variants typically use normal lithium-ion batteries, although better models (such as the Rexing V1-4K) use a supercapacitor. This allows it to operate in a considerably wider range of temperatures, with the maker stating that the dash cam can work safely in temperatures as low as -20°F and as high as 176°F.
Overall, this is a well-rounded, inexpensive dashcam from a reputable firm with customer service based in the United States. The only drawback is that you may need to purchase a few things to gain full functionality: in addition to the SD card and hardwire kit described previously, you'll also need to purchase the GPS logger separately if you want to record your location.
Pros
Advanced features at an affordable price
170 degree wide-angle camera
Can withstand temperatures of -20 to 176°F
Up to 2160p recording resolution
US-based customer support
Cons
GPS logging device and hardwire kit, if desired, must be purchased separately
2.Best Front and Rear Dash Cam: VIOFO A129 Duo
A dual camera system is required for individuals who want to record in front of and behind their vehicle. The VIOFO A129 Duo is one of the best dual dash cams on the market, and it comes as a kit with two cameras: a front-facing dash camera and a smaller rear-facing camera. Both of these cameras record in 1080p with night vision and a broad dynamic range for better low-light recording.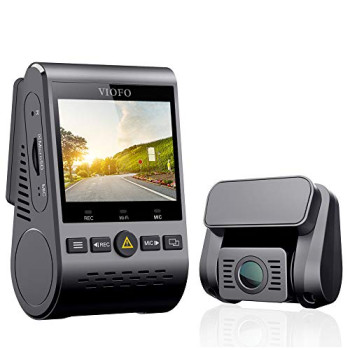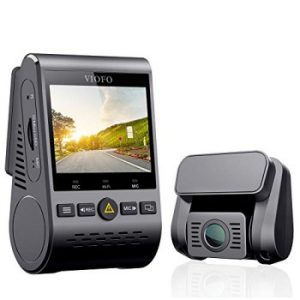 Many advanced capabilities that are generally only seen on high-end versions are included in the VIOFO. Wi-Fi support for viewing and sharing files and videos to and from your phone or computer, as well as GPS position logging, are all included. The GPS tracker is beneficial for insurance purposes because it records the vehicle's actual location as well as its current speed.
The VIOFO A129 Duo, like our top option, is powered by a supercapacitor, which enables for safe operation in severe temperatures. On the downside, the 140-degree "wide-angle" lens is a little smaller than many popular models, but it's still adequate for most applications. The front camera is big and should be mounted behind the rear-view mirror to avoid obstructing the driver's field of vision.
Pros
Dedicated front- and rear-facing cameras
1080p recording
Built-in WiFi and GPS
Powered by super capacitors to help resist extreme temperatures
Cons
Front camera unit is a little bulky
140 degree lens is not truly "wide angle"
3.Best Budget Dash Cam: Chortau Dash Cam
Look no further than the Chortau Dash Cam if you're looking for a low-cost option. Our is the greatest affordable dash cam we've found, at a fraction of the price of most of the devices on this list.
Despite its modest cost, it actually performs admirably. Surprisingly, the Chortau has a 170-degree wide-angle lens and can record in full HD (1080p).
It features a G-sensor and automatic accident detection, as well as night vision and a parking monitor (via an optional hardwire kit or battery.) It's simple to set up using a suction-cup installation and doesn't take up much room. However, in really hot temperatures, the suction cup may come loose.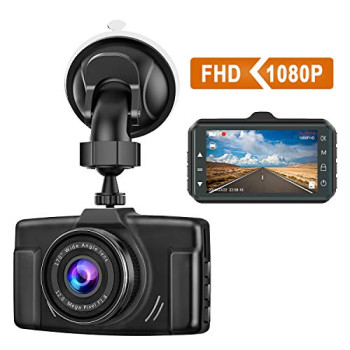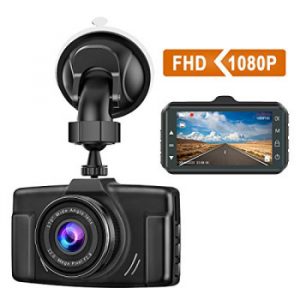 Given the budget, it's maybe unsurprising that the built-in software isn't always the most user-friendly, but it gets the job done. A microSD card isn't included, so be sure to get a Class 10 card (up to 32GB capacity) when you place your order. The fact that this model is powered by a lithium ion battery is a significant disadvantage.
This model, unlike the supercapacitor-powered gadgets mentioned before, will not be able to resist high temperatures. It's probably worth investing a little more if you live in a particularly hot or cold climate, or if you want the highest-quality recordings or slickest software. If you don't want to spend too much, this is one of the best dash cams under $100.
Pros
170 degree wide-angle lens
Very affordable
Automatic accident detection
Installs easily via suction cup
Cons
Powered by lithium ion battery – cannot withstand extreme temperatures
Suction cup may come loose in very hot conditions
4.Best 4K Dash Cam: BlackVue DR900S 
There's a lot of misinformation out there about 4K dash cams. Many cameras (including our top selection) advertise 4K, but that's only the maximum resolution the sensor can capture for a single image. Much better hardware is required for proper 4K video recording, especially at 30 frames per second or above.
Only a few dash cams now support it.
The BlackVue DR900S is the best option for genuine 4K video. The pricing reflects the fact that this is a top-of-the-line model from a premium company, but you get a lot for your money. The tubular form is simple to install, and the camera's small size and black colour make it a discreet option if you want to keep it hidden.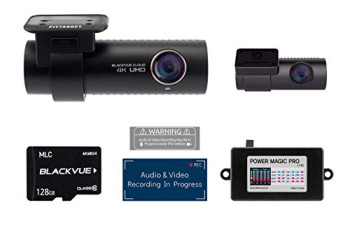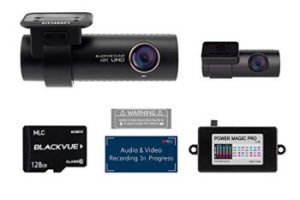 The front-facing camera features a 160° wide-angle lens and can record at 30 frames per second in 4K (38402160) resolution, while the rear camera has a 140° lens that shoots in 1080p. The DR900S comes with a 128GB microSD card and can accept cards up to 256GB in size, which is more than most competitors.
The DR900S, like other high-end models, has a built-in supercapacitor that allows it to work in extreme temperatures.
It has GPS tracking with live speed display, parking monitor (through included hardwire kit or optional battery pack), and dual-band Wi-Fi, as you'd expect for the price.
Apart from the greater price, the only significant disadvantage of this camera is that it is too small to have a screen on the rear. You'll need to use the iOS or Android app on your phone to see footage and alter settings.
Pros
Front and rear-facing cameras, with front camera true 4k
GPS tracking with live speed display
Parking monitor
Dual-band Wi-Fi
Cons
High end device comes with a high end price
No screen on the camera
5.Best Motorcycle Dash Cam: VSYSTO Waterproof Dash Cam
Motorcycle dash cameras are developed expressly for the demands of motorcyclists, with rugged construction to endure the environment and a tight fit to ensure they don't slip off while riding. The VSYSTO Waterproof Dash Cam is currently the best motorcycle dash cam available.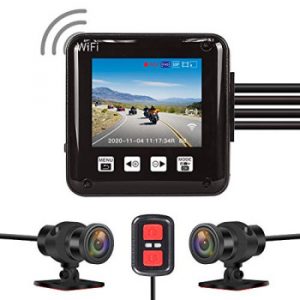 It includes front- and rear-facing cameras, each with robust mounts to keep them firmly connected on bumpy roads, as well as a touchscreen unit to connect the two. Both cameras have a 150° field of vision and can record in 1080p. The camera cases are rated IP67 for water and dust resistance, and the host unit is rated IP65, so you'll be safe from whatever the elements hurl at you. SD cards with a capacity of up to 128GB are supported by this model.
As is customary with loop recording, previous files are immediately overwritten, so even with a little SD card, you'll be able to record enough for most circumstances. The "wide-angle" 150° lens on this model isn't that wide (several models on our list are 160° or 170°), and GPS tracking requires an optional add-on, which is sold separately.
Pros
Front- and rear-facing camera mounts
IP65/IP67 waterproof
WiFi support
Cons
GPS tracking requires additional purchase
150° lens isn't really "wide-angle"
6.Best Dash Cam for Uber & Lyft Drivers: Vantrue N4
Drivers who work for rideshare companies are frequently encouraged to utilise dash cams to protect themselves not only from other road users but also from their passengers. Because of its unique in-cabin camera, the Vantrue N4 dash cam is a perfect alternative for people driving for Uber or Lyft.
There are three cameras in this model: front-facing, rear-facing, and inside the cabin. Drivers have the ability to record everything that happens inside and outside their automobiles. The Vantrue is a high-end camera with a high-end price tag. However, if you drive for a living, it's definitely worth the money, as the extra capabilities make it one of the finest dash cams for truckers and other professional drivers.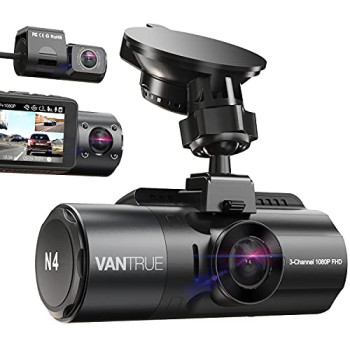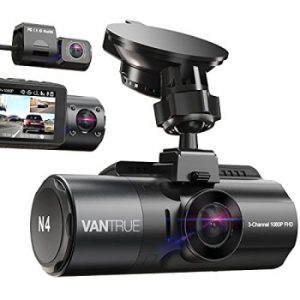 This dash cam is well-rounded and strong, with features including a 24-hour parking mode (with an optional hardwire kit), infrared night vision, and a heat-resistant supercapacitor power source. The recording resolution for this model is determined by the number of cameras in use. It can record at up to 4K using only the front-facing camera.
It can record in 4K + 1080p from the front, back, or cabin. It's also limited to 1440p (front-facing) and 1080p + 1080p when all three cameras are active (rear-facing and in-cabin). The disadvantages of this device include its high price and the fact that it does not come with GPS tracking by default. However, drivers who want to add the feature will need to purchase a GPS unit separately.
Pros
Three cameras: Front-facing, rear-facing, and inside cabin
IR night vision
Supports up to 256gb SD cards
High resolution recordings
Cons
Above-average price
GPS unit sold separately