Technology has progressed to the point that it can now bridge the gap between individuals all over the world. You can communicate with distant cousins or friends or prepare for an interview from anywhere using a communications network. The majority of domestic calls are now free.
When it comes to making international calls, though, it can be quite costly. Because of this, the focus of this post is on the best FireRTC options for making free international calls. Let's take a look at the top ten FireRTC alternatives available.
10 Best FireRTC Alternatives of 2021 to Make Free International Calls to Phones and Landlines:
1. PopTox
PopTox is a popular FireRTC alternative that is recognised for its free VoIP calls. You can now make calls by visiting the PopTox website from any normal browser on your smartphone or computer. It connects to the punched phone number using your WiFi or cellular network. That means there's no need to download the app or install any form of plug-in.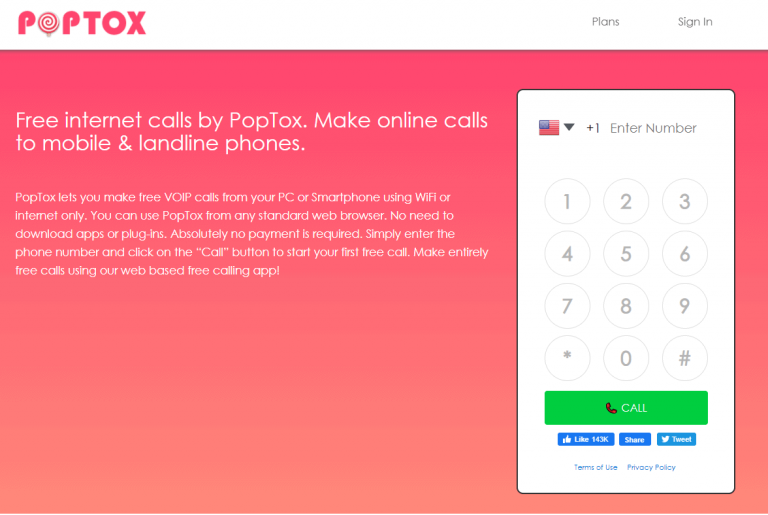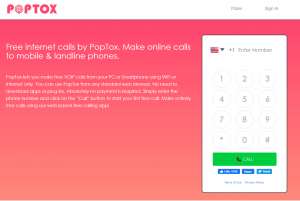 To make a free call from anywhere to anyone, simply dial the phone number and press Call. In comparison to FireRTC or Skype, it is distinguished by the fact that it uses VoIP technology to transport all calls from the web browser to phone-based endpoints.
PopTox, on the other hand, only allows you to make a limited number of free VoIP international calls from your browser to mobile or land phones in a single day. By registering and subscribing to one of the premium plans, you can make unlimited international calls. For $10 a month, you can get the Basic plan, which allows you to phone worldwide to 64 firms.
2. LINE
If you want a FireRTC alternative that also functions as a social site, LINE is the best choice. It not only allows you to make free international calls for up to five minutes, but it also gives you access to a platform where you may share messages and media with anyone. The call recipient does not need to have the LINE app installed.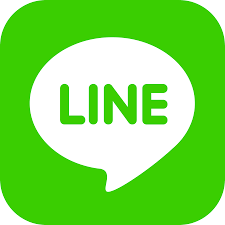 To use its features, all you have to do is sign up and create a LINE profile. LINE also provides a venue for exclusive deals, ads, and breaking news. On the iPhone, you may also make free international calls. It has a 4.1 rating on Google Play and a 3.5 rating in the App Store.
3. Voxofon
Voxofon is one of the first, and thus the oldest, FreeRTC alternatives. Voxofon was in the sector from 2008 until 2021, offering free calls to app subscribers. You can use the application platform to make domestic and international calls, as well as share messages, location, and media.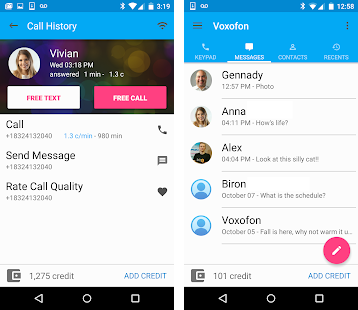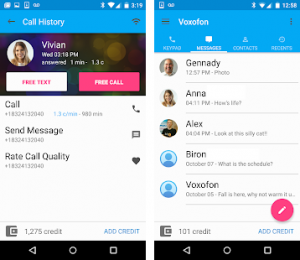 The Voxofon apps operate on both desktops and smartphones, allowing you to make international calls from your iPhone, iPad, or Android device. Because of its brand image and guaranteed call quality, you would choose Voxofon as a FreeRTC option. It has a 4.3 rating on the Play Store and a 4.4 rating on the App Store.
4. Rebtel
Rebtel is the best FreeRTC option if you want to make free international calls without using the internet. Without WiFi or an internet connection, you can make international calls to 53 countries. To complete the call, it just dials local numbers.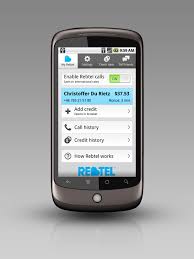 If the recipient does not live in one of the 53 countries listed, however, you will need to use WiFi or the internet to make the call. Rebtel provides you with a hassle-free solution to make unlimited international calls!
5. VoipStunt
VoipStunt, the twin of VoipBuster, is known for its high-quality calls. It's one of the top ten FreeRTC alternatives since it allows you to make free in-app calls to another VoipStunt user utilising cutting-edge technology from your phone or PC.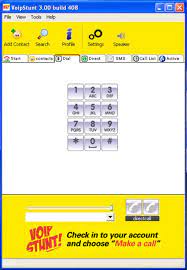 You can use the VoipStunt software to make ordinary phone calls from anywhere for free or at very low rates, just as FreeRTC. Simply download the software and use it to make limitless peer-to-peer calls from anywhere at any time. It does not, however, allow for the exchange of media or SMS services.
6. Zoiper
Zoiper, a FreeRTC alternative, is unquestionably among the best 10. It provides free VoIP calling through a PBX or a SIP provider of your choice. Zoiper is available for Android, iOS, Windows Phone, PC, macOS, and Linux.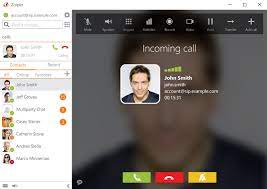 Free encryption services for all your media-text, video, and audio communication with ZRTP and TLS/SRTP is one of the best features. Its user interface also allows you to sync all of your contacts from Android, Mac, iOS, Windows, and any other device you grant access to.
7. iEvaphone
You may now make free international phone calls online with the iEvaphone software, which is a web-based FreeRTC alternative.
It connects cellular data networks and WiFi networks and can be used on a Mac, PC, or smartphone. You only need to use a basic web browser to log in; no additional plug-ins or downloads are required.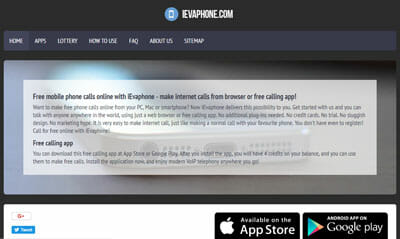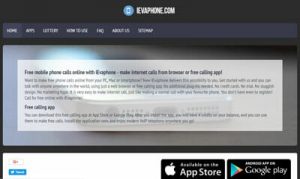 It allows you to make free international calls to a restricted number of countries as a FreeRTC alternative. Depending on their IP address, the amount of free calls varies from person to person. The amount of free chat time per day is restricted to 1-2 minutes.
8. Signal
Signal is a popular, cutting-edge messaging technology that allows you to make free calls from anywhere in the world. It means you can make calls outside the border without fear of being intercepted. It offers end-to-end encryption for your calls and messages as a FreeRTC option, as well as free local and international calls.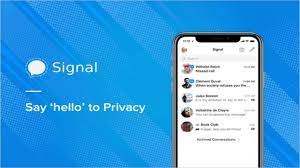 As a result, Signal is a messaging platform with a calling feature. The best aspect is that there are no advertisements, no hackers, and it is completely free. Signal has a 4.4 rating on the Play Store and a 4.7 rating on the App Store.
9. Zoom
With a cloud function, Zoom is one of the most popular, trending, and leading in modern workplace online communication. It's a lot more than a FreeRTC replacement. You can use its online communication platform to make phone calls, chat, host meetings and webinars, and use zoom rooms.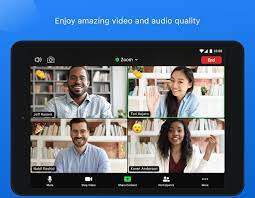 Since its inception in 2011, the app has performed admirably as a standard mobile system, with capabilities such as call forwarding, call transfer, voicemail, call recording, call blocking, call holding, conferencing, and many others.
It outperforms FireRTC in terms of country coverage, allowing you to contact any country and enjoy high-quality voice calls. You will, however, have to subscribe to a paid ZoomPhone service or utilise it in conjunction with your current mobile network carrier, unlike FreeRTC.
10. Skype
Skype is one of the most popular FreeRTC alternatives that provides an online communication platform, with over 40 million users. You can make Skype calls to both Skype and non-Skype users, just like FireRTC. Unlike FreeRTC, though, you can call anyone on the planet.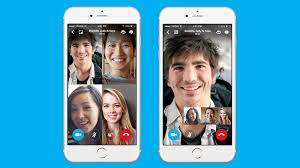 You can make international calls for free to both landlines and mobile phones. You will have to utilise one of Skype's pricing plans to connect with non-Skype users, i.e. to connect it to a phone or landline. You can pick between a pay-as-you-go or a monthly price plan.
Conclusion
You may make international phone calls with ease using the ten FreeRTC alternatives listed above. You'll have to pay for subscription programmes like Skype and PopTox if you want unlimited calls to mobile phones or landlines. Like a traditional messenger, you can utilise platforms like LINE and Voxofon to share and exchange information and material. I hope one of these FreeRTC options allows you to have the finest calling experience possible.