Gimbals are a must-have device for anyone who wants to make professional videos with nothing more than their phone. These mechanical stabilisers keep your smartphone steady enough to shoot fast-moving situations without the jitters and shaking that characterise most amateur footage.
However, not all gimbals are created equal, and there is a significant difference between the best models and the others. When you're spending hundreds of dollars on higher-end versions, you want to make sure you're getting a decent deal.
That's why we've compiled a list of the top iPhone and Android gimbals worth considering, ranging from inexpensive and compact devices to high-end and vlogging-specific models.
1. Best Gimbal Overall: Zhiyun Smooth 4
The Zhiyun Smooth 4 is a solid 3-axis gimbal that performs similarly to the DJI OM series, to which it is frequently compared. It's more than just a cheap substitute; it's a strong challenger in its own right. This gimbal does everything right: it has a long battery life, a solid mount that works with most smartphone models, and a variety of helpful shooting modes like Object Tracking and Time Lapse.
The range of control buttons on the Smooth 4 is what we appreciate best, since they provide rapid access to most features and shooting modes. It's a practical alternative because you won't have to fidget with your phone screen while filming, distracting your filmmaking and attention.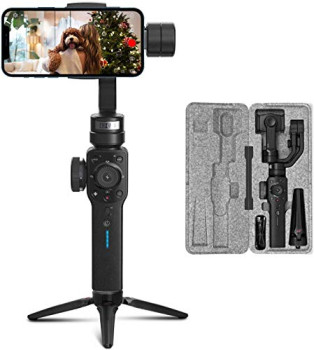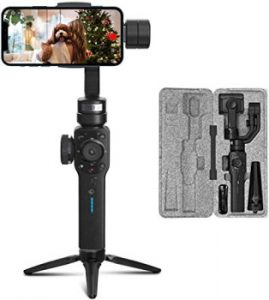 The number of buttons on the Smooth 4 has one tiny disadvantage: it can be daunting for beginners. You'll get used to them quickly, and you'll soon discover that it's a far more powerful approach to film smartphone videos. The highest phone weight supported is 210g (7.4oz), which may be an issue with huge phones like the iPhone 12 Pro Max, but shouldn't be an issue otherwise.
The Zhiyun companion app for Android isn't as refined as the iOS version, however interoperability with Filmic Pro allows you to utilise this (far superior) app instead. This gimbal is surprisingly affordable for what you get, especially when you consider the remarkable steadiness and added control it provides. Overall, the Zhiyun Smooth 4 is a fantastic value for both amateur and professional smartphone cinematographers, making it our top smartphone gimbal option for 2021.
Pros
Great stability
Packed with quick-access buttons
Compatible with Filmic Pro
Cons
Not as intuitive as some to set up and use
Not fully compatible with heavier phones like the iPhone 12 Pro Max.
2. Best Gimbal for iPhone: DJI OM 4
DJI is well known for its consumer drones, but they also make high-quality gimbals. The DJI OM 4 is one of the best, offering great stability, straightforward controls, and dependable customer service from a trusted brand. It's also far more travel-friendly than its predecessors, coming in at under a pound and offering up to 15 hours of battery life.
The magnetic phone clamp attachment on the OM 4 is a standout feature, allowing you to quickly snap in and out your phone. While this allows you to use the OM with phones of any size, it does impair the steadiness of heavier phones like the iPhone 12 Pro Max. The OM 4's 3-axis gimbal is one of the most stable on the market, allowing you to take amazingly smooth video with your smartphone.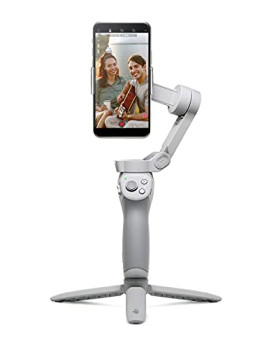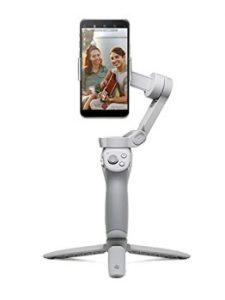 You can use the OM 4 on its own or connect it to the DJI Mimo app through Bluetooth to gain access to greater resolutions, frame rates, and advanced capabilities. One of these is DJI's patented tracking technology, ActiveTrack 3.0, which is also used in its top-of-the-line consumer drones. Other essential tools, such as Dynamic Zoom, TimeLapse, and CloneMe Pano, make creating innovative videos enjoyable and simple.
However, there is a chance that these tools will not work with some Android cellphones. Because the Android version of the Mimo app lacks some of the functionality included in the iOS version, iPhone users will find the OM 4 to be the most useful. As a result, if you're searching for a high-quality iPhone gimbal, the DJI OM 4 is an excellent choice. Simply expect to pay more for the quality: it's usually more expensive than the others on our list.
Pros
The most beginner-friendly gimbal on the market
Exceptional stable video
Compact and lightweight
Impressive battery life
Cons
Some advanced features are incompatible with some Android phones
More expensive than other brands
3. Best Budget Gimbal: Hohem iSteady X
The Hohem iSteady X is a low-cost smartphone gimbal with enough of performance and functionality. It uses a 3-axis stabiliser to produce smooth videos, just like more expensive choices, but for a fraction of the cost. The iSteady X is small and light, weighing only 0.6 pounds, and it has a good battery life for a budget model, lasting up to eight hours on a single charge.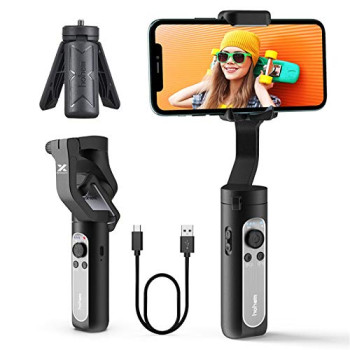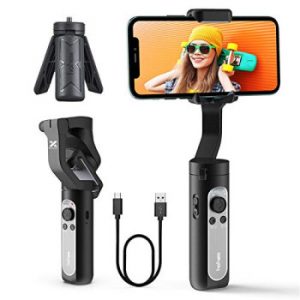 The iSteady X is all about simplicity when it comes to operation, making it great for novices. When your phone is mounted in position, you can quickly rotate it up to 270 degrees with a single push, eliminating the need for tiresome readjustments. The presets make even the most complicated capabilities of the companion app, such as dolly zoom and dynamic transitions, simple to use.
The iSteadyX's smaller size has the disadvantage of providing a somewhat weaker grip than larger variants. This can be a deal breaker for professionals who seek the most stable photos available. Overall, the Hohem iSteady X is an excellent low-cost alternative if you're new to gimbals and want to capture stable smartphone movies without spending a lot of money.
Pros
Low price
Decent battery life for a budget model
Compact size
Beginner-friendly
Cons
Small size means weaker grip, especially with larger phones
4. Runner Up, Best Budget Gimbal: Wiser X01
Despite being slightly more expensive than the Hohem iSteady X (above), the Wiser X01 is one of the better cheap smartphone gimbals available. With the same compact size, low weight, and 3-axis stability as the iSteady X and others on this list, the X01 offers a similar bang for your buck. The X01 offers two distinct advantages over other budget models.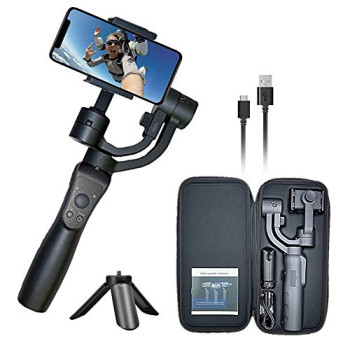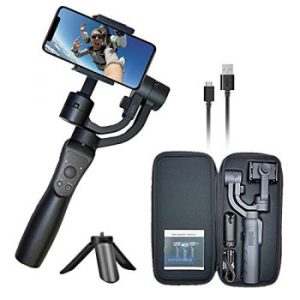 The 12-hour runtime is among the best in its class, and advanced filming modes and capabilities like panoramas, panning, and object tracking are more common in premium gimbals than in budget models like this. The Gimbal Pro companion app is the sole flaw with the X01.
It's not as simple to use as other gimbal apps, and some users have reported issues with synchronising and other aspects of stability. That's a shame, because it detracts from what is otherwise a fantastic budget option, putting the X01 in second place.
Pros
Long battery life and advanced shooting features for a budget model
Compact and lightweight
Cons
Companion app unintuitive and can be unreliable
5. Best Gimbal for Vlogging and Filmmaking: Hohem iSteady Mobile+
The Hohem iSteady Mobile+ is a considerable enhancement over the iSteady X, providing increased stability and improved ability to capture fast-moving footage. For dedicated vloggers or filmmakers, this is the better option. Sport Mode on this gimbal is excellent for shooting fast-paced scenes with a lot of movement.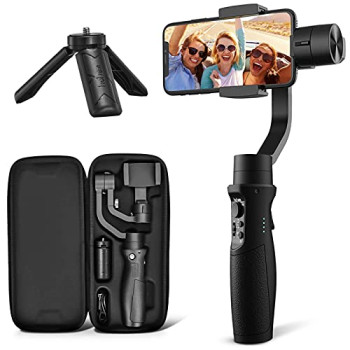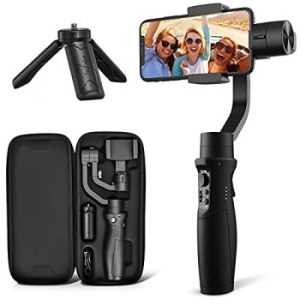 It can detect even the tiniest movements and correct for them, resulting in ultra-smooth results. This mode is useful for individuals who want to shoot extreme action situations without the final footage being a blurry mess. Advanced settings, such as time-lapse, auto retouching, and slow-motion, are available on the gimbal to give creative twists to your productions.
Vloggers will love the iSteady Mobile+ as well. It folds up into a small (although heavy) package that can be readily stowed in a backpack or pocket, and the smartphone can be rapidly snapped into the clamp for quick photos. The 12-hour battery life is also suitable for a full day of shooting without needing to recharge.
Pros
Good battery life, perfect for all-day shooting
Adjustable clamps that can fit larger/heavier phones
Can handle fast/sports scenes reliably
Cons
Heavier than most gimbals on this list
6. Best Compact Gimbal: Zhiyun Smooth Q2
The Smooth Q2 from Zhiyun is a smaller, more user-friendly version of our top overall recommendation, the Smooth 4. Fortunately, the Q2 keeps its big brother's remarkable steadiness and smoothness. The Q2 Smooth's major selling point is how light it is, weighing only half a pound. The Smooth 4, and indeed all of DJI's offerings, have lower proportions.
With a quick-release latch that lets you attach your phone in seconds so you don't miss that crucial footage, the Smooth Q2 is as simple to set up as it is to transport. It also boasts the longest run time we've seen in a gimbal, at 17 hours. In comparison to its larger sibling, the Smooth Q2's controls are streamlined, with many of the Smooth 4's buttons removed.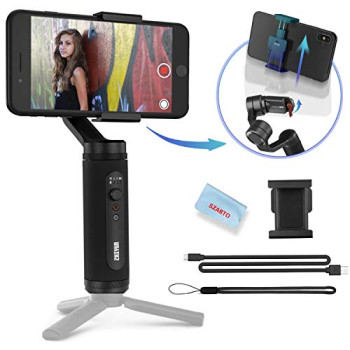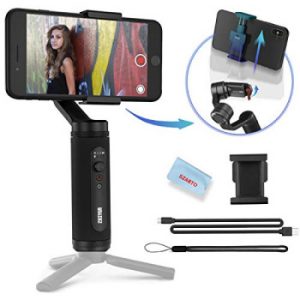 A 5-way joystick has taken their place, allowing you to adjust the gimbal's rotation and tilt. So, in terms of control, which one is superior? It all depends on whether you prefer simplicity or complexity. The Smooth 4 is designed for the professional who employs a lot of technical features while shooting, thanks to its outstanding number of buttons.
The Smooth Q2 is easy to use and, thanks to its joystick, ideal for fine-tuning your gimbal's movement in some situations. In the end, the Smooth Q2 is more than a scaled-down version of the Smooth 4. It's a good option for newcomers or casual users who only want to get the basics straight.
Pros
Ultra-compact form factor that fits in your pocket
Joystick works great for fine tuning shots
Great battery life
Cons
Lacks quick access to advanced features
Conclusion
The Zhiyun Smooth 4 is our overall favourite smartphone gimbal because it strikes the ideal blend of price, features, performance, and compatibility with the majority of smartphone models. However, iPhone owners who are willing to invest a little more money can benefit from the DJI OM 4's sophisticated iOS features and intuitive controls. You can't go wrong with either the Hohem iSteady X or Wiser X01 if you're a casual user looking for an inexpensive gimbal to play about with or take on your next trip.