Although Windows 11 isn't expected until later this year, those who can't wait can try out the Insider preview or beta builds of the new OS now. If you're a member of the Windows Insider Program and already have Windows 11, you're probably aware of the new clock app.
In the Dev Channels, Microsoft unveiled a new Clock app for Windows 11 to Windows insiders. As a result, if you've signed up for the beta, you won't be able to use the new Clock app. In Windows 11, the new clock app features fresh aesthetics that look great.
It also added a new function known as 'Focus Sessions.'
What is Focus Sessions?
Focus Sessions are a set of tools designed to assist you in concentrating on your present activity. You get a Focus Timer, Focus with Spotify, Microsoft To-Do list integration, and more with Focus Session.
The beautiful thing about Focus Session is that it allows you to become more immersed in the environment. You can set a daily target for yourself and challenge yourself to keep your streak going. Microsoft is working on improving Focus Session, so expect more features in the future.
How to Use Focus Sessions on Windows 11?
If you've signed up for the Windows Insider programme through the Dev Channel, you'll need to update to Windows 11. The Focus Sessions can be found on the Clock app after installing the newest preview edition of Windows 11.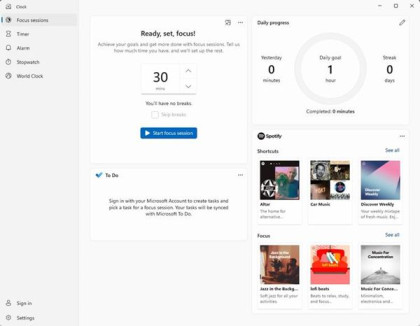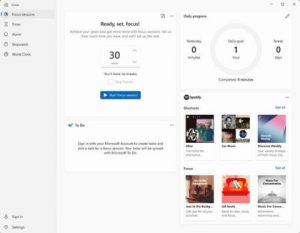 You must first launch the Clock app on Windows 11 in order to enable and use Focus Sessions. The Pomodoro Technique is replicated in Focus Session. It allows you to work for a particular amount of time.
Every half-hour, the feature adds one break, which is set to five minutes. The daily streak, completed goals, and yesterday's results are all displayed on the top-right card.
Integrate Microsoft's To-Do list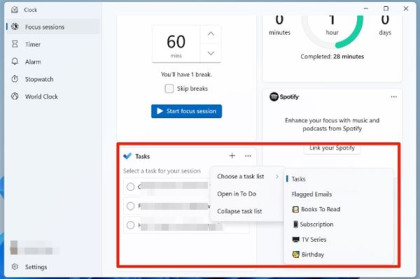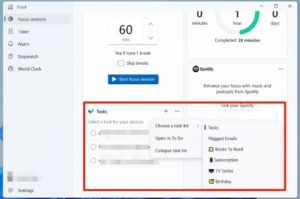 Another excellent feature of Windows 11 Focus Sessions is the inclusion of Microsoft To-Do lists. You may use this tool to check your activity and tasks by integrating your To-Do list account. The Tasks can also be edited from within the Focus Sessions. This is one of the most useful productivity features that Focus Sessions has to offer.
Spotify Integration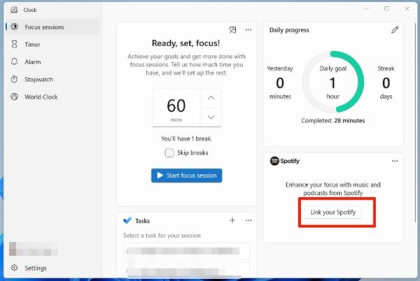 According to several studies, listening to music lessens the odds of being distracted by other things. Focus Sessions also allows you to connect your Spotify account to help with your study. That means you'll be able to access your Spotify playlists and libraries directly from the Focus Sessions. This function aids in your productivity.
Focus Sessions Settings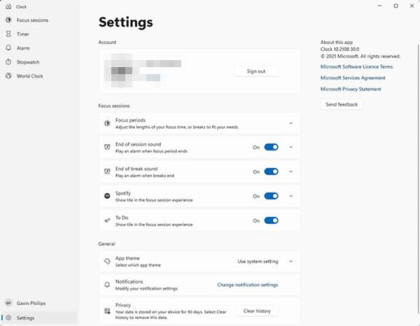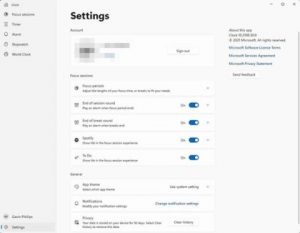 Focus Sessions Settings can be found at the bottom of the screen. For example, you can utilise the Focus Sessions options to establish an end-of-session alert, a sound for the end of a break, and so on. You may also adjust the App style, Notifications, and Privacy settings from the Settings menu.
So, that's how Windows 11 Focus Sessions work. I hope you found this material useful!
Please pass it on to your friends as well. If you have any questions, please leave them in the comments section below.