Shattered iPhone screens are becoming a thing of the past, just like flip phones, VCRs, and original iPods. The glass on the new iPhone 11 and 12 models is exceptionally strong, withstanding damage test after damage test (until dropped from 10 feet, at least.) Unless you're bungee jumping or trying your hand at parkour, you're unlikely to risk your screen shattering.
Scratches are still an issue, especially if you store your phone in a pocket, purse, or bag with metal objects like as keys or coins. Because sand can destroy iPhone screens, a screen protector is a modest but necessary investment if you plan on spending time at the beach. They also tend to keep oily fingerprints at bay, and some even have antibacterial technology that eliminates the bacteria that live and grow on your phone's surface.
There are quite a few of them. Keep in mind that the screen protector is not indestructible. Scratches and breaks may still emerge, but they are caused by the protector rather than the pricey phone display. It's meant to be a sacrificial item, so expect to replace it at some point. Finally, screen protectors are primarily intended to protect against scratches and fingerprints while also providing some drop protection.
Tempered Glass Screen Protectors
Instead of a plastic screen protector, go for one made of tempered glass.
Plastic screen protectors have a number of disadvantages. For one thing, they're thinner, which means less protection and more visible scrapes. A plastic screen protector will lose its clarity with time, and because they aren't fingerprint-resistant, you should expect smudgy viewing. They also don't protect the screen's edges.
The only advantage that plastic screen protectors have is that they may be reused. You probably won't want to reuse them anyway, given the amount of wear they get over time. Screen protectors made of tempered glass are the polar opposite. They offer improved protection, are fingerprint-resistant, and deliver a considerably sharper viewing experience.
They also have a much smoother touch, which is crucial when using a touchscreen. Despite the fact that they aren't reusable, some brands supply extras with each purchase in case you make a mistake during installation or the shield gets too many scratches.
1. Best iPhone Screen Protector: ZAGG InvisibleShield Glass Elite VisionGuard+
The ZAGG InvisibleShield Glass Elite VisionGuard+ provides additional screen protection as well as a variety of other useful functions. The screen protector is made of aluminosilicate glass that is identical to that found in laminated safety glass, with reinforced edges to prevent chips and cracks from spreading.
The glass also has a dispersion coating that helps spread the oil from your fingers more thinly across the surface, making fingerprints less obvious. Not only that, but the protector also blocks high-energy visual (HEV) blue light without distorting or reducing colour performance.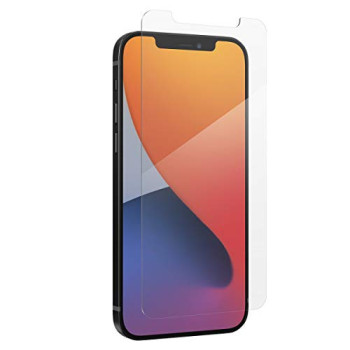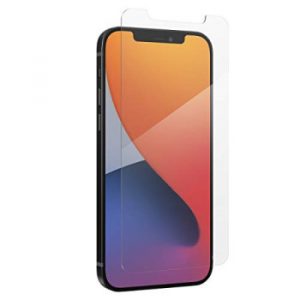 While the health claims concerning blue light are complicated, if you're concerned about it, utilising this screen protector is a lot easier than investing in blue light glasses. The VisionGuard+ also has an antibacterial treatment that helps to prevent germs and other microbes from growing.
We don't want to think of anything miniscule developing on our phone displays, but think about it: how often do you wash your hands before reaching for your phone? The ZAGG VisionGuard+ is our favourite iPhone screen protector right now, with good scratch protection and a slew of handy added functions. The most latest versions, including the iPhone 12 Pro Max, iPhone 12 Mini, and iPhone 12 are all available on Amazon. Check out ZAGG's website if you can't find the size you need on Amazon.
Pros
Strong scratch protection
Filters blue light
Disperses oil left behind by fingerprints
Antimicrobial treatment
Limited lifetime warranty
Cons
2. Best Easy to Install Screen Protector for iPhone: Spigen Tempered Glass Screen Protector
It's difficult to ignore a misaligned screen protector or a trapped speck of dust, and it may rapidly sour the thrill of a new iPhone. While all screen protectors promise to be simple to install, some are superior to others. It's difficult to screw up the installation of the Spigen Tempered Glass Screen Protector.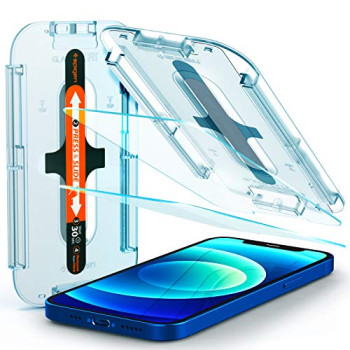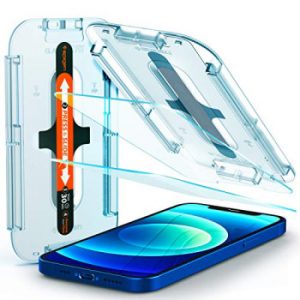 The screen is packaged in a plastic auto-alignment installation frame that is precisely sized to match your iPhone's display. Simply slip the tray over the phone's display, press down, and then remove the plastic shell. Aside than that, this product is similar to other basic tempered glass screen protectors.
It protects against scratches and fingerprint smudges, but it lacks additional characteristics such as antimicrobial treatment and blue light protection. Spigen's protection is compatible with all iPhone models starting with the iPhone X, as well as the smaller SE and Mini variants.
In some sizes, privacy screen variants are also available. There is no one-size-fits-all choice due to the auto-installation feature, so make sure you have the exact proper size before purchasing.
Pros
Simple and accurate installation
Reasonable cost
Scratch and shatter protection
Disperses oil left behind by fingerprints
Privacy screens available
Includes a second screen
Cons
Basic features
More waste/packaging
3.Best Privacy Screen Protector for iPhone: ZAGG InvisibleShield Glass Elite Privacy+
A privacy screen protector shields your screen from not only scratches but also prying eyes. The last thing you need is someone staring over your shoulder when you're penning intimate messages or inputting passwords and financial information. As iPhone screens grow larger, inquisitive eyes will have an easier time peering through.
Only you can see what you're doing with good privacy screen protectors because they reduce the viewing angle. Your own viewing experience is unaffected, but anyone standing alongside you who looks at your phone would see nothing but darkness. Many of the same features as the InvisibleShield Glass Elite VisionGuard+ are available in the ZAGG InvisibleShield Glass Elite Privacy+.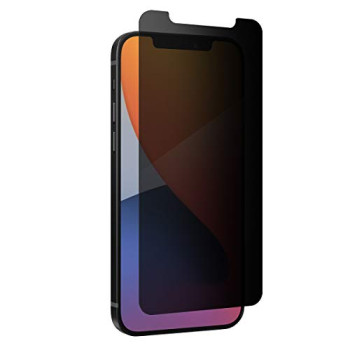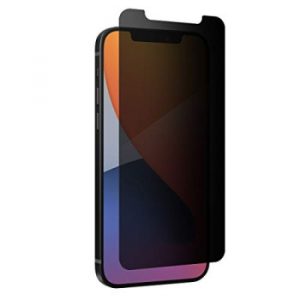 The key distinction is that when viewed from the side, Privacy+ provides full screen privacy. The loss of the blue light filter and antimicrobial treatment is the price to pay. With strengthened edges that prevent chips and cracks and an oil-dispersing treatment that diffuses fingerprints, the Glass Elite Privacy+ still delivers good scratch protection.
It's available on Amazon for most recent iPhone models, including the iPhone 12, iPhone 12 Pro Max, iPhone 12 Mini, and others, starting with the iPhone X. If you can't locate the size you need on Amazon, go to ZAGG's website instead.
Pros
Side view privacy filter
Strong scratch protection
Disperses oil left behind by fingerprints
Limited lifetime warranty
Cons
4. Best Budget iPhone Screen Protector: Ailun Glass Screen Protector
If you're on a tight budget and don't need any extra features, the Ailun Glass Screen Protector is a great option. It's composed of tempered glass, protects against fingerprint residue, and costs next to nothing. The Ailun Glass Screen Protector also comes with a tinted privacy screen if you're willing to pay a few dollars more.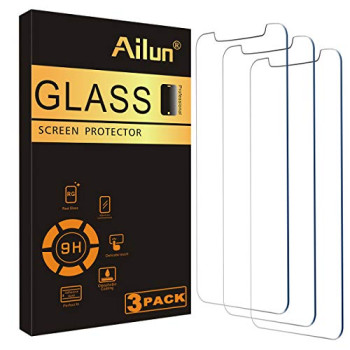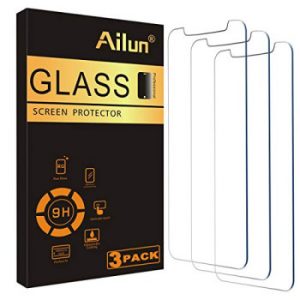 The privacy filter, on the other hand, isn't as good as more expensive solutions because it darkens your entire screen, akin to tinted windows. This implies that until you increase the brightness of your display, your viewing experience will suffer. It's compatible with the latest iPhone models, including the 12/12 Pro, 12 Max, and 12 Mini, however the protector may not completely cover your phone's screen depending on its size.
Pros
Low cost
Scratch and shatter protection
Prevents sweat and oil residue from fingerprints
Cons
Basic protection
Basic features
May not be a perfect fit
5. Best iPhone Case With Screen Protector: Catalyst Total Protection Case
The Catalyst Total Protection Case is ideal for those who seek complete protection for their iPhone. The case completely covers the display, and unlike other iPhone cases, it also entirely protects the camera lens. Catalyst cases are also completely sealed and submersible, with an IP68 rating and a water resistance of up to 33 feet (10 meters).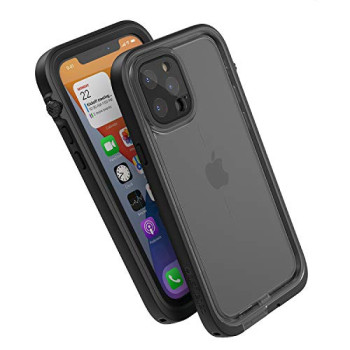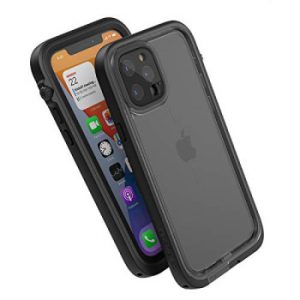 This comprehensive protection case can survive drops of up to 6.6 feet (2 metres) in addition to keeping water out. The front of the cover hugs the phone display firmly, but it isn't truly adhered to your screen and isn't made of tempered glass, so don't anticipate the same amount of scratch resistance or touch sensitivity as some of the other screen protectors described here.
Pros
wo-in-one (case + screen protector)
Waterproof to 33 feet (10 meters)
Drop-resistant up to 6.6 feet (2 meters)
Protected camera lens
Cons
Bulky
Covered screen can lack touch sensitivity
Although a screen protector may appear to be an unnecessary expense today that iPhones are more durable and rarely break, the risk of scratches remains. If scratches occur, you can replace the screen protector for a few dollars, but if you don't have one, you'll have to live with them until you're ready to update your phone or pay for an expensive replacement screen.