When the new digital world collides with the traditional physical world, one of the difficulties of working from the road arises. While a laptop can do a lot these days, mundane commercial chores like scanning papers remain difficult. Using print shops or business centres isn't always easy or cost-effective, and while you can get by with using your phone in a rush, the end product isn't always as excellent.
If you frequently need to scan papers, you might consider purchasing a portable scanner. You can digitise papers and images on the road with these small, light devices. The majority of them are battery-operated and can frequently transmit files immediately to your smartphone.
The large variances in specs and features between portable scanner machines, just like picking a portable monitor or printer, can make the process difficult. That's why we've compiled a list of the top scanners available to round out your mobile office setup in a number of scenarios.
1.Best Portable Scanner: EPSON Workforce ES-300W
The Epson Workforce ES-300W is everything you've ever wanted in a portable scanner, with amazing speed and mobility as well as a resolution that's adequate for most commercial needs. This beast scans at a rate of up to 25 pages per minute, which few other portable scanners can equal.
This scanner, when combined with a 20-page automatic document feeder that works in duplex mode, is one of the fastest in its class, allowing you to quickly and efficiently process a large number of documents. The scanner's 600 dpi resolution is sufficient for scanning images of acceptable clarity, and it includes a card slot for thicker media such as credit cards or identification cards.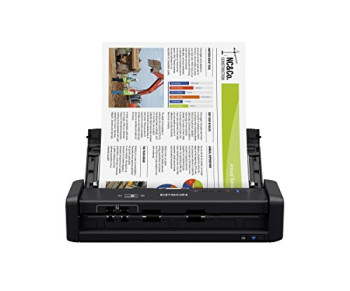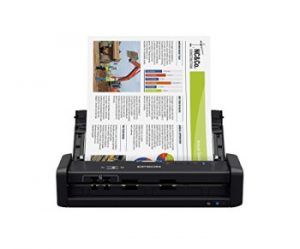 The integrated ABBYY software can automatically convert documents into editable and searchable PDFs using optical character recognition (OCR). Because of the automated document feeder, the ES-300W is a little bulkier than some of the other models on this list in terms of portability.
On the plus side, it's adaptable in terms of power and connectivity.
You can charge the internal battery with either an AC adapter or a USB 3.0 cable, and you can either connect wirelessly from your phone, tablet, or computer or plug the scanner directly into your computer via USB.
The Epson Scan software included with the ES-300W isn't up to grade, which is the sole drawback. The majority of its features are unpolished, the OCR output is poor, and simple scanning tasks can be a pain to complete. Thankfully, Epson includes ABBYY software, which is easier to use and produces better OCR, but it's still a surprising oversight.
Software is also used by the scanner to detect the edges of a page.
This isn't usually a problem, but when it comes across pure black or white areas on the page, it can misfire and stop scanning prematurely. Despite these minor flaws, the Epson Workforce ES-300W remains our top portable scanner pick due to its fast scanning speed, high quality, and versatility.
Pros
Fast scanning speed, with auto document feeder and duplex scanning
Flexible power and connectivity
Good resolution and OCR support
Dedicated card slot
Cons
Poor pre-installed software
Can have problems with page edge detection
Larger than other options
2.Best Portable Photo Scanner: ClearClick Photo Scanner
Are you primarily interested in scanning ancient photographs?
This ClearClick model is a small, portable gadget that allows you to quickly and conveniently digitise your photos. The 1200 DPI scanning resolution is higher than that of competing portable scanners. The manufacturers don't specify whether the resolution is optical (hardware) or interpolated (software-enhanced), but it appears to be the latter.
In practise, the ClearClick Photo Scanner's output isn't quite as good as a flatbed scanner, but it's good enough for most casual usage. This portable scanner has various qualities that make it suited for pictures, in addition to its possible greater resolution. The little LCD screen is nice since it allows you to see the scan before storing it.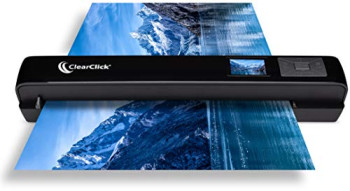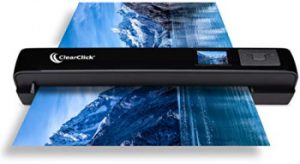 Scanned photographs are saved to an internal microSD card (not supplied), or you can email them to your Mac or Windows PC. The ClearClick Photo Scanner can be powered by 3 AA batteries or a USB cable. Unfortunately, the scanner does not come with a USB wall charger, so you'll have to purchase one separately or make due with one you currently have.
In general, we recommend scanning images with a good flatbed scanner if you have one, as the quality will invariably be better.
This scanner, on the other hand, is a helpful and practical solution if you need portability.
Pros
1200 DPI resolution
Small LCD screen to preview scans
Can scan directly to an SD card
Compact and portable
Cons
Resolution quality not as good as a flatbed scanner
No USB wall charger included
3.Best Portable Document Scanner: Epson DS-80W
The Epson DS-80W is the smaller and more portable brother of our top selection, the Epson ES-300W. This extremely light and small scanner is scarcely wider than the sheets of paper it scans, measuring 1.8 x 10.7 x 1.3 inches and weighing under 11 ounces. Despite its diminutive size, the DS-80W scans documents quickly, in as low as 4 seconds per page.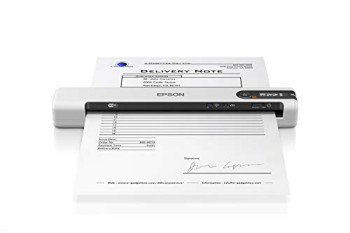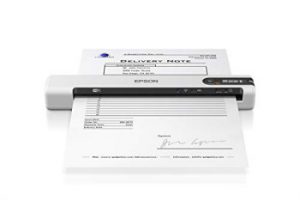 This scanner comes with OCR software, which allows it to create searchable PDF files. Because of its diminutive size, it can only accept one sheet at a time, making scanning huge piles of papers a chore. When you don't have access to a desktop scanner with a feeder, it's really designed for digitising important brief documents on the go.
The scanner connects to your computer wirelessly or by USB connection and runs on either battery or USB power. It works with both iOS and Android devices, so you don't have to bring your laptop out just to scan a document. The LCD panel, which displays wireless connectivity and battery level information, is a wonderful touch.
The ES-60W, a less priced counterpart of the DS-80W, is available.
Although both offer the same characteristics, the DS-80W comes with a three-year warranty. We believe that the longer warranty makes the DS-80W a better choice because the price difference is usually modest, but you can save a little money with the ES-60W if you like.
Pros
Very lightweight and portable
Versatile operation, including battery power and wireless connectivity
OCR support
Cons
No automatic document feeder
4.Best Portable Scanner Printer Combination: HP OfficeJet 250
Without a doubt, the HP OfficeJet 250 is the greatest mobile all-in-one document solution on the market. It combines a scanner, printer, and copier into a single portable device. The scanner includes a 10-page automatic document feeder and can scan up to nine black-and-white pages per minute and 3.6 colour pages per minute.
That isn't the fastest on the list, so if you require super-fast scanning, you'll have to go elsewhere. Fortunately, for most users, its other features will more than compensate for the slower speeds. The OfficeJet 250's printing quality is excellent for a compact printer. It produces better results than many desk-bound inkjets, which is impressive.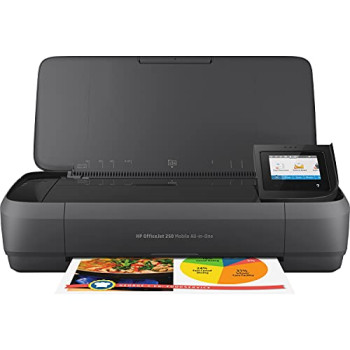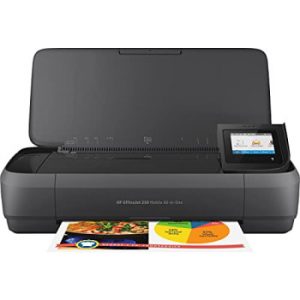 It offers wireless connectivity (both Bluetooth and W-Fi) as well as a rechargeable battery for portability, allowing you to utilise it without the usage of wires. The gadget has a convenient 2.65-inch colour touchscreen for managing it and seeing its current state, and the ability to print directly from a USB stick is quite useful when you're in a hurry.
Using the HP Smart app, you can scan to iOS and Android mobile devices. The OfficeJet 250 is, unsurprisingly, larger than dedicated portable scanners. It is, however, a very affordable all-in-one device that is an unmatched choice for taking your workplace on the road.
Pros
Portable all-in-one solution with excellent printing quality
10-page automatic document feeder
Cons
Bulky compared to scan-only options
Slower scanning speeds than dedicated devices
5.Best Portable Book Scanner: CZUR Aura-B
The CZUR Aura-B is a great option for scanning items that won't fit in a scanner feeder or are too fragile to scan, such as old documents, periodicals, and books. Simply place a book or document beneath the Aura-B, and the three built-in lasers will do the rest. The scanner software may digitally "flatten" the book by taking into account the page curvature using AI technology and a proprietary algorithm.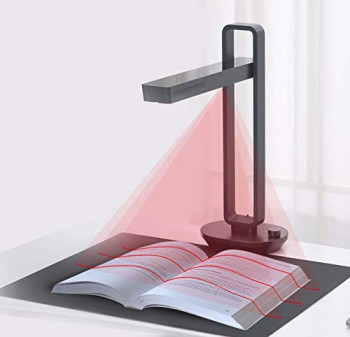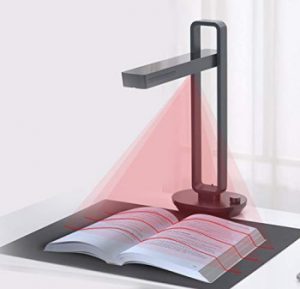 Scanning time each page is about two seconds, which is impressive. When not in use, the Aura-B also functions as a reading light, providing it additional use beyond that of a scanner. But there's a catch: at 300dpi, the scanned output isn't as crisp and accurate as some of the other portable scanners on this list, and the device isn't as small or portable.
As a result, rather than scanning common documents, we'd recommend the CZUR Aura-B to folks who need to scan things like books and periodicals on a regular basis that typical portable scanners struggle with. It's easier to use and produces better results than most wand-type scanners, therefore it earns our recommendation.
Pros
Can scan books, magazines, and other difficult documents
Doubles as a reading light
Cons
Bulkier than other options
Output not as clear as other models
6.Best Budget Portable Scanner: Brother DS-740D
The Brother DS-740D is one of the most inexpensive portable scanners you can buy, and at less than a foot long, one of the most compact on this list. It's comparable in size to the Epson DS-80W mentioned above. The DS-740D has a scanning speed of 16 pages per minute, coupled with duplex printing, OCR software support, and a dedicated slot for card scanning – all impressive features at that price point. The 600 dpi resolution also ensures decent quality output.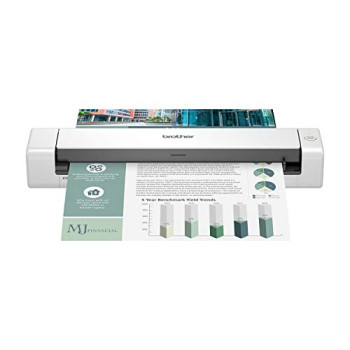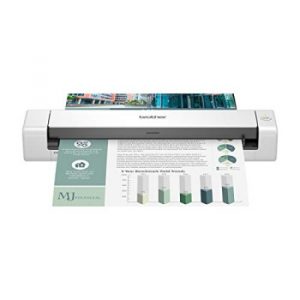 The biggest trade-off, and the one thing that limits the portability of the DS-740D, is the need to always have it plugged into your computer via USB when you're using it. That's because it doesn't support wireless connections, nor does it have a built-in battery for standalone operation.
As a result, this scanner is only appropriate for laptop or desktop computer users, not those who want to scan to a mobile device. At such a low price, however, the DS-740D is still a steal for what it offers.
Pros
Low price
Compact size
Relatively fast scanning speed for the money
Supports duplex mode
Cons
No battery power, so you need to plug it via USB or AC outlet
No wireless connectivity
Wrapping It Up
You will not be disappointed with the Epson Workforce ES-300W if you are looking for the greatest portable alternative that blends features and performance. It is at the top of our list because of its 20-page automated document feeder, duplex scanning, and rapid 25 ppm speed.
The Epson DS-80W is a superior choice for papers if portability is a need, while the ClearClick Photo Scanner is a good choice for photos. The Brother DS-740D printer/scanner combination offers good value for money for budget-conscious entrepreneurs, and if you're searching for the best all-in-one option for your mobile office, we highly recommend the HP OfficeJet 250 printer/scanner combination.