It should be so compact and light that it is scarcely noticeable in your bag. The sound quality must be good enough to make it worthwhile to listen to in the first place, with enough loudness to be heard from any location. It must also be long-lasting. There's a considerable possibility you'll use it at the beach, beside the pool, or somewhere else where it'll get dirty and wet.
It must be able to withstand such treatment with ease. Battery life is also important. It's pointless to bring your speaker to a beach party or a park picnic if the music stops after a few hours. Furthermore, it must be fairly priced, as most people consider speakers like this to be optional accessories. Doesn't this seem like an impossible combination? Thankfully, this isn't the case in all circumstances.
These half-dozen speakers suit the bill admirably, despite the fact that they're all a little different in one way or another. These are our top portable speaker options for 2021, ranging from tiny models that fit in your pocket to great-sounding units that can float alongside you in the pool.
1. Best Overall: UE Wonderboom 2
Ultimate Ears has long been our favourite of all the businesses that make travel speakers. For a long time, the firm has been producing gorgeous portable speakers that sound just as well as they look, and the Wonderboom 2 is no exception. It comes in a variety of colours and is tough enough to bounce around in the bottom of a daypack while remaining light enough that you won't notice it's there.
It can withstand most drops of at least five feet and is dust and water resistant to IP67 standards. While we wouldn't recommend blasting your favourite tunes from the bottom of the hotel pool, it can happily float with you. A small cloth loop on the top can be used to hook over whatever you can find around.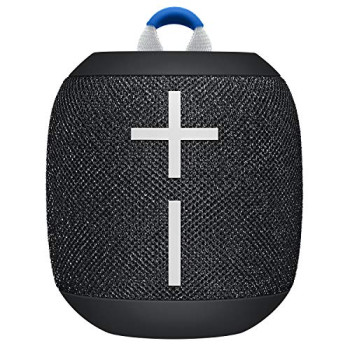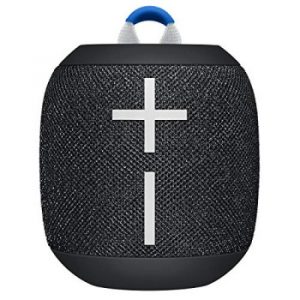 The Ultimate Ears collection has long been known for its audio quality, and this model is no exception. The Wonderboom 2 delivers an impressive listening experience for its size, with robust bass, clean middle, and distinct highs. The speaker has a maximum volume of 86db, which is more than enough to rock a beach or pool party.
However, if you want a louder, stereo sound, you can connect it to a second Wonderboom 2. Between charges, you'll enjoy up to 13 hours of music. We'd like to see an aux input in addition to the Bluetooth streaming option, and it could be a touch lighter. Apart from the amusing name, those are our only minor quibbles with what is an outstanding speaker for nearly any traveller.
Pros
Good sound quality
Attractive and durable
Plenty of volume
Cons
No aux port
Could be a little lighter
2. Best Value: Sony SRS-XB13
Sony has a long history of producing high-quality audio equipment, and with the XB13, it transfers that skill to the lower-cost end of the market as well. With a powerful, distinct mid-range and sharp treble, this compact portable speaker sounds amazing for its size. We noticed that recordings with a lot of bass can sound muddy and indistinct, which is to be expected from a speaker this big, but practically everything else is enjoyable to listen to.
The maximum level is quite loud, albeit there is some distortion when you turn it all the way up. Fortunately, you won't have to do it very often, especially inside. The previous model's micro-USB port has been replaced with a USB C port for charging.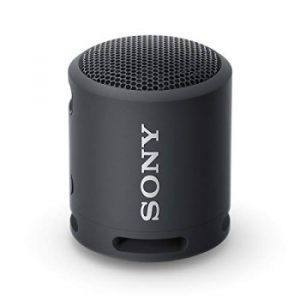 Despite its small size, Sony has packed a punch with functionality. It has an inbuilt microphone for making calls, as well as IP67 dust and water resistance, which means it can withstand almost any weather condition and keep going. The speaker's 16-hour battery life outperforms the competition, and it comes with a strap for hanging it from your shower, bag, or bike handlebars.
You can even connect two XB13 speakers together for stereo music and increased volume, and the speaker comes in five distinct colours. In short, the current iteration of Sony's dependable tiny speaker gives you a lot for your money. While we prefer the audio quality of the Wonderboom 2 (above), the XB13 will appeal to some purchasers due to features such as the microphone, lower pricing, and longer battery life.
Pros
Good mid and treble
Proper dust and water resistance
Inbuilt microphone
Small and light
Cons
Bass can be a little muddy
Can distort at high volume
3. Best for Battery Life: Anker Soundcore 2
Anker, which is best known for producing low-cost, high-quality chargers and batteries, has just begun to apply the same philosophy to portable speakers and projectors. The Soundcore 2 is the best example of this for travellers. You get a lot for a device that generally costs under fifty dollars with this revised version of what was previously a really effective travel speaker.
Let's start with the main event: an entire day of music. The Soundcore 2 has a 5200mAh battery that Anker claims will last up to 24 hours of playback. You'll probably get even more if you use an aux cord instead of Bluetooth, but either way, it'll keep the party going all night.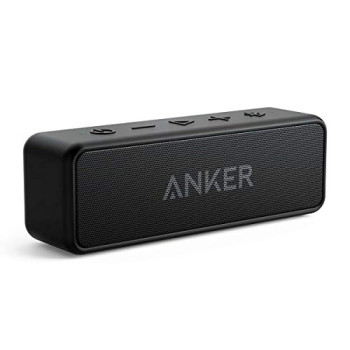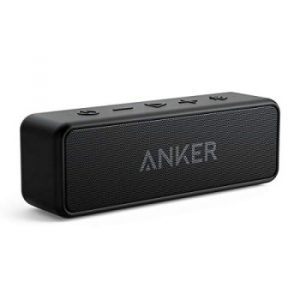 When it comes to volume, the 12W (2 x 6W) drivers deliver plenty. This speaker isn't as loud as our top overall recommendations (above), especially outside when competing with other sounds, but it's good for small gatherings or interior listening. The Soundcore 2 also sounds fairly excellent for a budget speaker, though it's far from being an audiophile gadget.
However, it's a significant improvement over listening to music through your phone or laptop speakers. While the design is more functional than appealing, the device's modest, blocky size allow it to fit neatly into your bag. The rubber covering protects it from the odd knock or drop, and it can withstand a good splash but not complete submersion.
A low-cost travel case is also available (sold separately) for added protection while travelling. The Soundcore 2 is available in a variety of colours and offers good quality, portability, and battery life for a very low price. That's exactly what many travellers are searching for in a speaker.
Pros
Exceptional battery life
Small and portable
Good value
Cons
Average volume and sound quality
Not as water-resistant as some competitors
4. Best Super-Small Option: JBL GO 3
The JBL GO 3's first feature you'll notice is its diminutive size. This little speaker fits in your back pocket and weighs just over seven ounces, so you won't even notice it's there. JBL has crammed a lot of information into a little space. The IP67 designation implies it may be used as a speakerphone as well as a speaker, and it can withstand a deluge and still function.
For such a small 4W speaker, the sound quality is excellent. There's enough volume to hear it outside if there's no excessive background noise, and it'll easily fill your hotel room. At maximum level, there may be some distortion, but anything less than that sounds sharp and clear. The speaker's basic controls are located at the top, allowing you to conveniently control play/pause/skip and volume.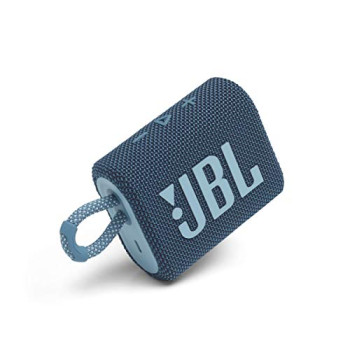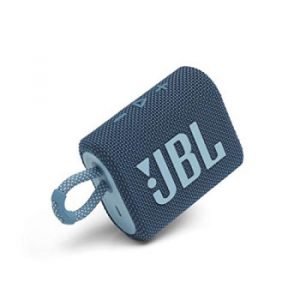 The speaker's power and Bluetooth pairing buttons are located on the bottom. Is there anything you don't like about it? To be honest, not much. If you expect to use the GO 3 all day, you'll need to bring a tiny portable battery because it only lasts 5-6 hours between charges.
It's also a shame that JBL didn't add the ability to use the speaker controls to skip music backward as well as forward, but that's a small quibble.
Given how well it does everything else — small size, terrific sound, flexible playback, water resistant, and so on — any slight flaws are readily forgotten. The GO 3 is made to appeal to a younger demographic. It is cute and fashionable, and it comes in a variety of appealing colours. Regardless of your demographic, if you're looking for a high-quality speaker that fits in your pocket, you've come to the right place.
Pros
Very compact
Surprisingly good sound for its size
IP67 dust and water resistance
Reasonably priced
Cons
Short battery life
Better for personal use than a group setting
5. Best for Use on the Move: JBL Clip 4
The JBL Clip 3 is the most focused on the "travel" aspect of all the travel speakers featured here. It includes a metal carabiner on top that you can attach to your backpack strap, bike handle, or any other hook or loop you may find. Large raised buttons beneath the carabiner make controlling volume and playback simple, even without looking at them.
The metal grille adds a lovely touch to the Clip 4, making it a stylish little device that comes in a variety of colours. Despite its attractive appearance, the speaker is designed for outdoor use. Its IP67 designation indicates it can withstand dust, grime, and being immersed in three feet of water for half an hour, and if dropped in the pool, it will float back to the surface.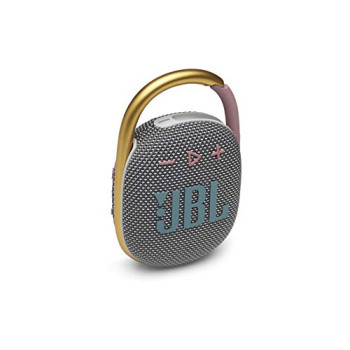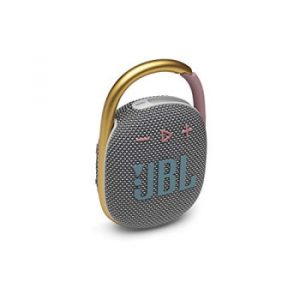 The Bluetooth range is exceptionally good at roughly 100 feet.
However, you can't connect many Clip 4s together, which is a bummer. The passive bass radiator aids the sound quality, which is good for a 5W speaker. The volume levels are also better than you might imagine, and unless you're in a really noisy environment, you'll be able to hear your music outside.
The volume of your music, like with most small speakers, has a considerable impact on battery life. At full volume, you'll likely get less than half of the stated 10-hour battery life, but if you turn it down a notch, you'll get quite close. The JBL Clip 3 is a true go-anywhere speaker with good battery life and sound quality that deserves to be towards the top of your travel gadget purchasing list.
Pros
Lightweight
Carabiner makes it easy to take anywhere
Long Bluetooth range
Cons
Can't connect multiple speakers together