You may have noticed that the sound quality from other individuals on the call isn't fantastic if you've suddenly found yourself having a lot of meetings, social gatherings, or job interviews online. Don't worry; they're probably thinking about you as well.
That's because most laptops, tablets, and phones have built-in microphones that aren't very good at distinguishing your voice from background noise. This makes it more difficult for others to understand what you're saying, leading to muddled talks and poor-quality recordings.
It's exhausting and frustrating to keep repeating yourself and asking others to do the same, but there are alternatives. A good external USB or Bluetooth microphone will increase speech quality and eliminate background noise, making work conversations, video chats, and podcast audio better.
Because USB and Bluetooth mics come in a variety of costs and features, we've compiled a list of our favourites based on quality, price, functionality, and mobility. While investing more money usually implies getting a better product with more features, there are some cheap models that are worth buying.
What to Consider When Choosing a USB or Bluetooth Microphone
Cardioid vs. Bidirectional vs. Omnidirectional vs. Stereo
There are four ways microphones capture sound, also known as their pickup pattern.
Cardioid microphones are designed to catch sound from directly in front of the microphone while ignoring sound from the sides. This sort of microphone is great for use when live-streaming a video game or recording in an environment with a lot of background noise.
Bidirectional microphones pick up sound from the front and back, but not from the sides. A microphone like this is ideal for conducting a one-on-one interview.
Omnidirectional microphones pick up sound in a 360° pattern, which means they collect sound equally in all directions around the mic. When you're on a conference call with a group of individuals in the same room, an omnidirectional microphone ensures that everyone is heard.
Stereo microphones have two built-in microphones that pick up sound similarly to our own ears (from the left and right). This adds intricacy to the sound, making it the finest choice for recording music.
Higher-end microphones frequently include various pickup patterns, allowing you to select how you want to collect sound. Other microphones are made with a specific purpose in mind. Before you buy a microphone, think about how you'll use it to make sure it'll meet your audio needs.
Does It Have a Mute Button?
Quick-access mute and volume controls are extremely beneficial when utilising your microphone for conference calls. You'll want to mute yourself as soon as your dog starts barking or your baby starts crying in the middle of a Zoom conference.
Look for a microphone that has specific controls so you can simply adjust the volume or mute the mic when necessary. It's a lot quicker than fiddling with the volume on your laptop or phone.
Is It Compatible With Your Devices?
What devices do you intend to use your microphone with? A circular XLR connector is found on many professional-grade microphones, however it will not connect to your phone or laptop.
If you choose a mic that isn't USB or Bluetooth-compatible, you'll almost certainly need an adapter, and as you might expect, we're not big lovers of having too many adapters. As a result, all of the mics we've included below are USB or Bluetooth-enabled.
Microphones designed exclusively for cellphones are available, or you can choose for a Bluetooth version. The sound quality of wireless mics like these is rarely as good as corded models, but you can pair them with any Bluetooth-compatible device without worrying about having the necessary cable.
Best USB Microphone
1. Best Overall: Blue Yeti USB Microphone
The Blue Yeti USB Microphone is our overall favourite. It has a fashionable design, as well as different pickup patterns (cardioid, bidirectional, omnidirectional, and stereo) and simple volume and mute settings.  There's a zero-latency headphone port for monitoring your audio, and you can choose from a dozen different colour and shade combinations.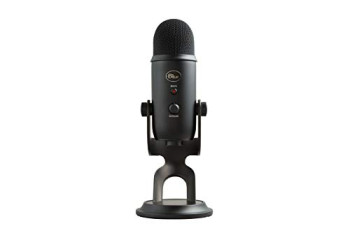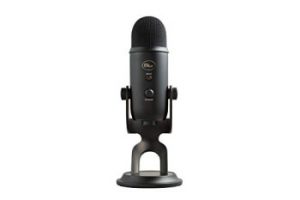 By pivoting the Blue Yeti mic on the built-in stand, you can easily adjust the angle to your liking. Whether you're recording voice or vocals, it's incredibly sensitive and produces clear, crisp, professional-sounding audio.
However, because of its sensitivity, it is prone to picking up vibrations, so depending on your recording location, you may need to invest in a shock mount or a boom arm. This is a high-quality USB microphone that is easy to suggest, having been produced for over a decade and having millions of delighted consumers.
2. Best on a Budget: Fifine USB Microphone
Looking for a less expensive option? Fifine's USB Microphone costs half to a fourth of what other top mic brands do, however it still performs admirably in many scenarios. If you only need the essentials and don't require any high-end features, this inexpensive alternative would suffice.
It has a cardioid pickup pattern, which means it only picks up sound from in front of it. This makes it ideal for recording yourself in noisy venues and other single-person recording scenarios when all of the sound you care about comes from one direction.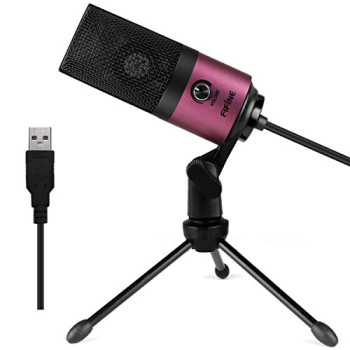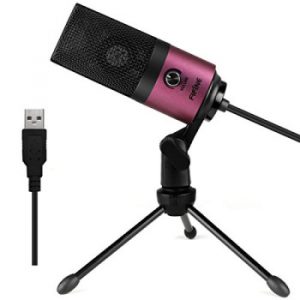 The mic features a metal casing and comes with an integrated USB connection, as well as a compact tripod stand to hold and adjust the mic's angle. It can also be used with a boom arm or any tripod or mount that has a 5/8′′ screw.
The audio quality is excellent for the price, making this an excellent choice if you're on a budget or don't want to spend a fortune on a microphone. It's also a fantastic method to evaluate if you need an external mic before spending money on a more expensive unit.
3. Best Portable USB Microphone: Samson Go
The Samson Go Mic is a USB condenser microphone that may be used to record on the go. This fold-up microphone includes dual pickup patterns (cardioid and omnidirectional) as well as a built-in headphone amplifier and connector, but it's still small enough to put in your pocket or day bag.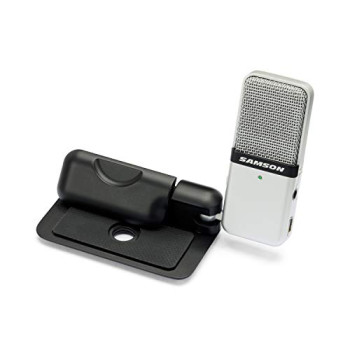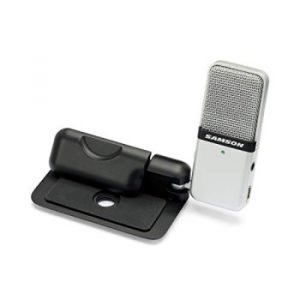 It's excellent for anyone who wants to travel light but needs better recorded audio than a phone or laptop can provide. It weighs only 3.5 ounces and comes with a soft case to protect it from bumps and scrapes.
It's also quite reasonably priced, so it's an excellent alternative if you want to try out a low-cost microphone before making a larger investment, just like our budget pick above.
4. Best USB Microphone for Podcasting: RØDE NT-USB Mini
This USB model is no exception to RDE's reputation for providing high-quality podcasting mics. The RDE NT-USB Mini cardiod mic offers unique features like an inbuilt pop filter that helps you appear more professional in podcasts, interviews, and Zoom conversations by reducing plosives (words that start with a t, k, or p sound).
It's a small, high-quality device with a USB-C output for recording directly to a computer or tablet. The magnetic base of the desk stand keeps it firmly fastened to metal surfaces. With the microphone about 4-6 inches from your mouth, you'll receive the greatest sound.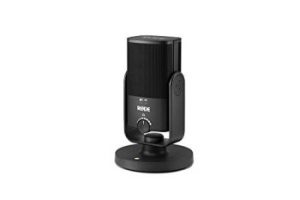 You can also take the mic off the desk stand and place it on a studio arm or another sort of stand if necessary. RDE manufactures high-quality versions of both, however if you want to utilise mounts from another manufacturer, the microphone takes a common 3/8′′ screw.
A studio-grade headphone amplifier is built-in, with a volume control dial on the front for convenient access. By simply turning the dial, the headphone output may be switched between zero-latency and normal audio mode.
5. Best for iPhone: Shure MV88 Portable iOS Microphone
The Shure MV88 Portable iOS Microphone plugs into any Lightning-equipped iOS smartphone. An adapter isn't required for use with an iPhone, unlike USB microphones, so you'll have one fewer thing to carry or lose when recording audio on the road.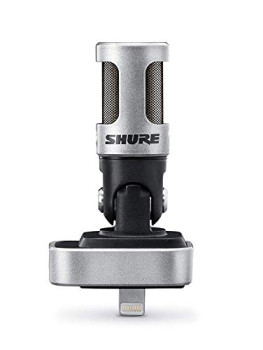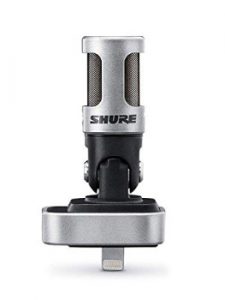 You'll have no trouble tossing it into a backpack, handbag, or suitcase because it comes with a tiny carrying case that protects the mic in travel. The microphone part rotates 90 degrees, allowing you to aim it wherever you choose, while a detachable foam shield reduces wind noise when recording outside.
Shure has a well-deserved reputation for high-quality microphones and other audio gear, and it shows in this product. The MV88 is an obvious choice for iPhone owners, thanks to its all-metal build, outstanding stereo sound capture, and two-year guarantee.
Best Bluetooth Microphone
Best Wearable Bluetooth Microphone: Instamic Pro
A Bluetooth microphone eliminates the need for cords, which is especially beneficial if you plan to attach it to your clothing or use it with a variety of devices with different inputs. That convenience comes at the expense of the sound quality and reliability of a corded microphone, but in many cases, it's a worthwhile trade-off.
The Instamic Pro is a compact, durable Bluetooth microphone that packs a punch despite its diminutive size. Using the Bluetooth connection, you may stream directly to Android and iOS devices, or save recordings to the 8GB internal storage and then dump them to a phone, tablet, or computer later.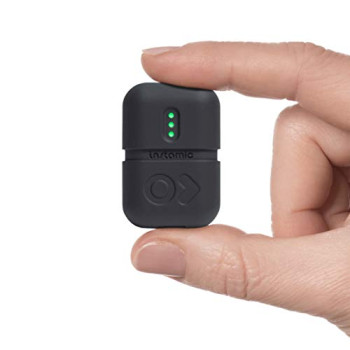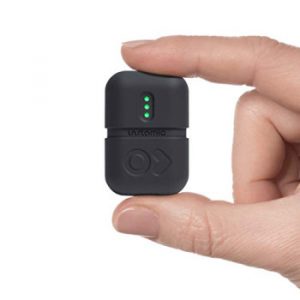 It comes with three various mounts (velco, tape, and magnetic), each of which can be easily mounted to a variety of materials and surfaces. It merely takes a few seconds to attach and detach the microphone from the mounts, and there's also a lanyard hole if you want to wear it around your neck.
The microphone is an inch wide and 1.5 inches long, and it only weighs 0.6 ounces. It comes in mono and stereo variants and is IP67-rated to withstand dust, splashes, and inclement weather. The microphone takes around an hour to fully charge via the micro-USB interface, and the battery life is roughly three hours.
On the microphone, there's a single button that controls power and recording, as well as three LEDs that represent basic input levels. For remote control and monitoring, there's also an iOS and Android app.
If you want to utilise it to record video, keep in mind that due to software limitations, the microphone won't operate with either iOS or Android's default camera/video apps. Alternatives such as Filmic Pro and MoviePro, as well as Facebook and Instagram Live, function just well.
Best Bluetooth Speakerphone
Best Bluetooth Speakerphone: Anker PowerConf
Check out the Anker PowerConf Bluetooth Speakerphone if you're on a lot of conference calls and need a good cordless, hands-free speakerphone. It's built for meetings with numerous people in the room, but it's also a cost-effective and reliable personal mic and speaker system.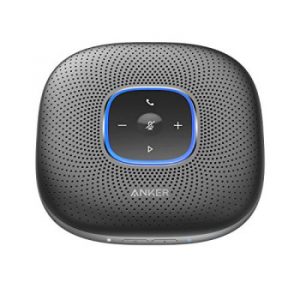 Six microphones are positioned around the perimeter, allowing it to detect and focus sound from any direction. Background noise is reduced, and sound levels are balanced to accommodate for changes in volume and distance between each speaker.
Quick-touch controls on the Anker speakerphone allow you to answer calls, mute, or adjust the volume as needed. It has a battery life of up to 24 hours and may be used as a Bluetooth speaker or a portable battery to charge your phone or other USB devices.
While the PowerConf is billed as a Bluetooth speakerphone, you may also use a USB-C connection to connect it to a laptop or other computer. One is included in the box, as well as a protective case.