Wireless charging has progressed slowly over the years, with few breakthroughs in the last several years. Although maximum charging speeds are still slower than charging with a cable, it does give you greater freedom and mobility. Simply place your phone on a charging pad and watch it charge without the hassle of plugs and connections.
The Qi wireless charging standard is what you should look for when purchasing a wireless charger. This technology has been a front-runner for several years before Apple joined the WPC (Wireless Power Consortium), the organisation that oversees Qi charging.
While Qi technology is compatible with today's iPhones (including the most recent versions), Apple is also developing its own wireless charging technology. MagSafe magnetically hooks your phone into the exact correct location for faster 15W wireless charging, which is currently only available for the iPhone 12 series.
This method not only charges your phone faster, but it also eliminates the risk of your phone moving around on the pad. These are our top selections for the best wireless chargers on the market right now, regardless of what type of device you're charging or where you're charging it.
It contains our top overall pick, as well as a MagSafe option, a wireless charging stand, a vehicle charger, and a 3-in-1 charging station that can charge several devices simultaneously.
1.Best Wireless Charger Overall: Anker PowerWave II
Our best selection for wirelessly charging one device at a time is the Anker PowerWave II. It produces anywhere from five to 15 watts of electricity, depending on what you're charging, and is compatible with a variety of phone models, including the iPhone, Samsung Galaxy, and Google Pixel, as well as Apple's AirPods.
So long as the case isn't composed of metal, the Powerwave II can charge through phone cases up to 5mm thick. If you have anything attached to your phone, such as magnets, a grip stand, or a credit card cover, you won't be able to charge wirelessly.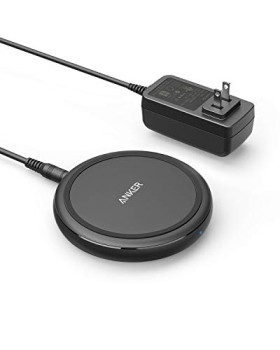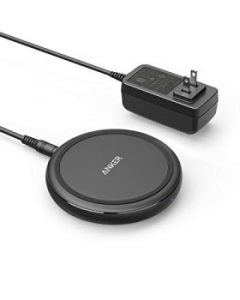 The speed at which your device charges is determined by your device. Most Samsung Galaxy phone models, for example, can charge wirelessly at 10 watts, while certain LG and Google phones can charge at up to 15 watts. Unfortunately, iPhones can only charge at 7.5 watts, which isn't much more than a regular 5-watt wall adaptor.
The charger has anti-slip rings to keep your phone in place, but it lacks the magnet feature seen in MagSafe chargers. If you want to wirelessly charge one of the most recent iPhone models, we recommend one of those instead.
Pros
Qi fast charging support
Anti-slip rings
Can charge AirPods
Supports cases up to 5mm thick
Cons
Not MagSafe compatible
Metal attachments or cards will prevent charging
2.Best Wireless Charger for iPhone: Apple MagSafe Charger
Apple's MagSafe Charger works with the latest iPhone models, including the 12, 12 Pro, 12 Pro Max, and 12 mini, to allow fast charging. The MagSafe charging ring magnetically hooks to the rear of the phone, locking it in place and allowing it to safely deliver maximum power. The iPhone 12 and Pro versions support 15W fast charging, while the iPhone 12 mini supports up to 12W.
Apple announced a number of Magsafe accessories at the same time as the charger, including cases in a variety of colours and attachable leather wallets. This charger is also Qi-compatible, which means it can wirelessly charge previous iPhone models (8 and above) as well as AirPods at a slower 7.5W pace.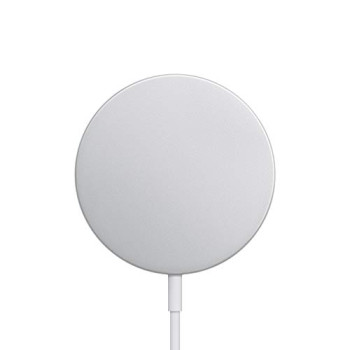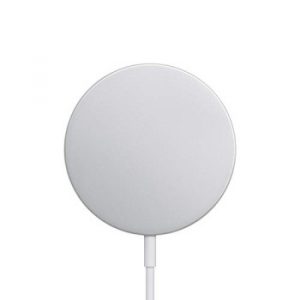 While Apple does not explicitly encourage the use of other phones on its charging pad, the fact that it supports Qi implies it should work with most other wireless charging devices. This includes Android phones such as the Samsung Galaxy and Google Pixel, as well as peripherals like the AirPods case and the Apple Watch.
The Magsafe charger also comes in a Duo version that can charge both the phone and the accessories at the same time. The fact that you can't use it immediately out of the box is a disadvantage. You'll need to pair it with a 20W USB-C wall adapter, which you'll have to buy separately unless you already have one (which is unlikely).
Apple, obviously, produces one, as do well-known third-party businesses such as Anker, which are often less expensive. If you want quick charging, be sure anything you buy has a USB C port and is capable of pumping out 20W of power.
Pros
MagSafe compatible
Can charge AirPods
Mid-range price
Cons
MagSafe (15W) charging only works on iPhone 12 models
Power adapter doesn't come in the box
3.Best Wireless Car Charger: Zeehoo Wireless Car Charger
Despite the fact that the Qi wireless standard allows for up to 15W of power output, most smartphones do not attempt to reach that level. On the latest iPhones, Qi wireless charging works at 7.5W. Most older models, as well as a variety of other phone and accessory kinds, have a 5W or less power limit.
However, if you have one of the few phones that supports 15W Qi charging, you'll need a charger that can handle it. This is especially true for car chargers, as you may only have a short trip to get as much juice back into your phone as possible. The ZeeHoo 15W dash mount model fills that void.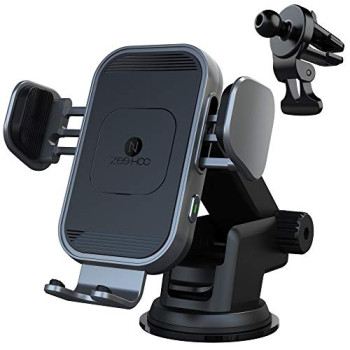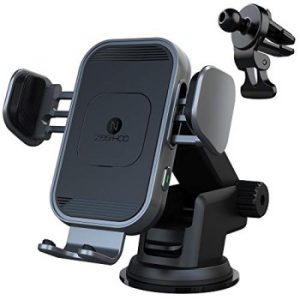 The ZeeHoo car charger may be installed on the dash, windscreen, or air vent for further versatility. The stand can also pivot, allowing you to quickly convert between portrait and landscape modes. The tray position can be modified using the telescoping pole or by adjusting the bottom piece of the mounting tray to fit phones of various sizes.
When a phone is placed inside the clamp, it automatically closes, and you may release it by pressing a button on the side. The charger intelligently detects how much power the phone can withstand and charges it at the fastest possible speed.
However, the mount does not come with a cigarette lighter to USB adapter, so if you want maximum power and don't already have a car charger that can output at 15W, you'll need to purchase something similar.
Pros
Supports 15W Qi charging
Handles cases up to 3mm thick
Automatic clamp design
Low price
Cons
Power adapter doesn't come in the box
Not MagSafe compatible
4.Best Wireless Charger Stand: Anker Wireless PowerWave Stand
The Anker Wireless PowerWave Stand, which comes in black or white, provides 10W of high-speed charging for Samsung Galaxy phones and 5W for iPhones and other devices. It can charge through up to 5mm thick rubber, plastic, and TPU cases, however magnetic or metal accessories like a grip stand will prohibit charging.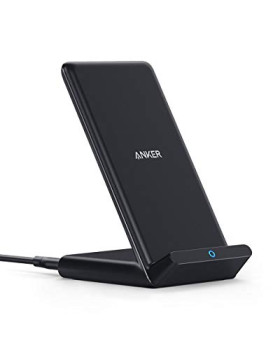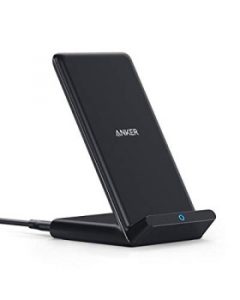 The dual charging coils allow you to charge your device in landscape or portrait orientation without compromising power supply, allowing you to use your phone as usual while it's on the stand. In portrait mode, your phone's facial recognition will continue to work, allowing you to unlock it without having to pick it up and stopping charging.
However, because the stand lacks any clamps or magnets, you'll have to be careful not to knock your phone off if you accidently nudge it. There is no wall charger included in the box, as with some of the other wireless chargers on our list. If you don't already have one, something similar to this will suffice.
Pros
Fast charging (for Samsung Galaxy)
Charge through cases up to 5mm thick
Includes everything you need in the box
Inexpensive
Cons
Not MagSafe compatible
Metal attachments or cards will prevent charging
Power adapter doesn't come in the box
5.Best 3-in-1 Wireless Charger: Logitech Powered 3-in-1 Dock
The Logitech 3-in-1 charging dock can simultaneously charge an iPhone, an Apple Watch, and an AirPods case. This may be the best option for you if you have many gadgets that allow wireless charging and don't want to have multiple chargers on your nightstand.
The Logitech dock charges iPhones at 7.5W and Samsung phones at 9W. It's simple to use: all you have to do is place your gadgets on it to begin charging. If the indicator light on the charger turns on, you're charging.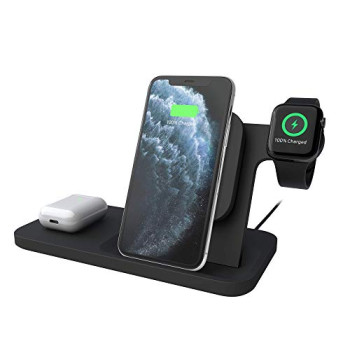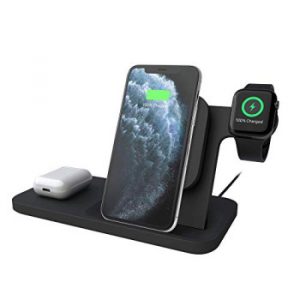 If you place the charger alongside your bed, the light is supposed to be dim enough not to disturb your sleep. To some extent, you may mix and match, placing your phone on either the upright stand or the horizontal pad. You may also charge two phones at the same time without losing speed if necessary.
It's useful for charging numerous gadgets wirelessly, but it's a little hefty. These 3-in-1 chargers are great for sitting on a desk or a bedside table, but they don't travel well, so you'll need something else while you're not at home.
Pros
Supports multiple devices
Charge with cases up to 3mm thick
Includes everything you need in the box
Cons
Higher price
Size makes it inappropriate for travel