The iPhone's camera software has evolved tremendously over the years, much like the camera itself. It's a solid mobile photography tool for most individuals, combining advanced functionality with ease of use. However, some situations necessitate functionalities that the native app cannot provide.
There are many scenarios when a dedicated app is a superior solution, from SLR-level manual control to taking long exposures or in low light. When you add in apps for creating and improving a wide range of different types of photos, there's no shortage of iPhone camera apps to choose from. The fundamental question is: which are the most effective?
That's what we're here to answer.
1.Best Professional Quality Camera App: PRO CAM 8
PRO CAM 8 is one of the greatest iPhone camera apps for individuals who want complete control over their photographs.
Many of the manual settings and advanced adjustments found on a DSLR camera are available on this camera. Exposure parameters like as shutter speed and ISO are among the most important.
These can assist you shoot in low light or add slow shutter speed effects like speed and light trails to your photos. The programme also has manual focus adjustments for gradually shifting the photo's focus/bokeh between the background and foreground. When the iPhone camera app's tap-to-focus approach won't suffice, such as locking focus on a close-up, moving object, this is useful.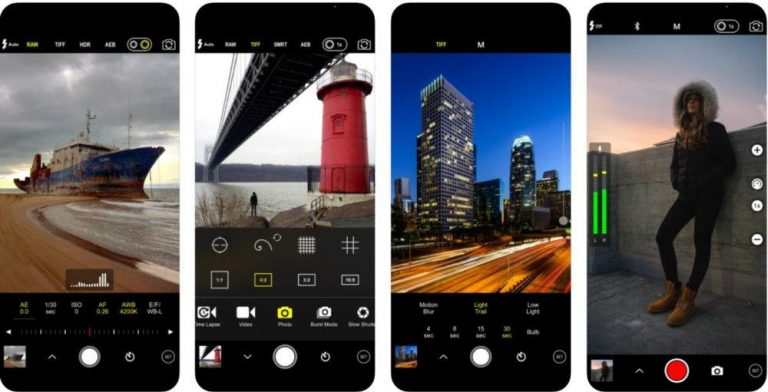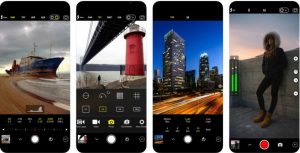 We especially enjoy the overexposure warning feature, which shows zebra stripes in overexposed regions of your image. The file types supported by PRO CAM 8, which include high-quality RAW and lossless TIFF, are among the professional features. It also includes non-destructive editing, which allows you to make changes to your images after they've been taken without harming the original.
With 60 filters, 17 lenses, and 19 adjustment options, you can get creative while editing. In terms of PRO CAM 8's features, this is only the tip of the iceberg. In the end, if you're an iPhone photographer searching for the same amount of creative control as a DSLR camera, this is about as near as you can go. The sole disadvantage is that for a novice user, the UI and options can be intimidating.
Pros
Robust SLR-level camera controls for photo and video
Non-destructive editing tools
Wide range of lenses and adjustments
Export to lossless formats like RAW and TIFF
Cons
Interface and options can be overwhelming for casual users
2.Best Free Manual Camera App: Yamera
If the $7.99 price tag of PRO CAM 8 (above) is a deal breaker, Yamera is a good alternative. While it doesn't have as many capabilities as PRO CAM 8, it covers all of the essential DSLR functions. If you desire complete manual control, you can change the shutter speed, ISO, white balance, and focus.
You may also set some options to auto while fine-tuning others, and store your favourite settings as presets to use again later. A grid display, timestamps, and a no-touch toggle are all important features that prevent you from mistakenly changing settings while shooting.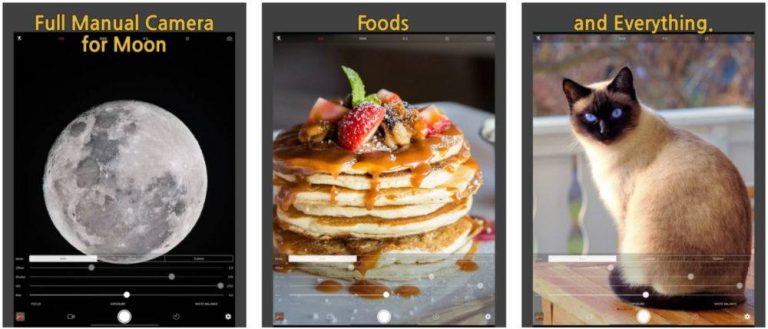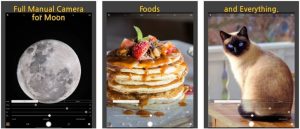 Yamera can also export to high-resolution formats like RAW and 4K video, but you'll have to purchase to the commercial edition ($1.99) to get this functionality. The biggest drawback of this programme is that it only has two aspect ratios: 4:3 and 1:1, which limits your framing options.
Advanced features such as histograms and metres are also absent. Yamera, on the other hand, is a good free alternative to the iPhone camera app for casual to intermediate users due to the level of customization it provides.
Pros
SLR-like manual controls for free
Can save favorite settings as presets
Cons
Aspect ratios are limited
No real advanced features
3.Best for Selfies: SODA
Do you enjoy posting selfies on social media? Take a look at the SODA app. SODA adds makeup effects, filters, and face modifications to help you produce your dream photo. It's dubbed a "natural beauty camera," whatever that means. SODA's "beauty" modifications set it apart from the competition.
It can recognise the contour of your face and make real-time changes using facial tracking technology similar to that used by popular apps like Snapchat. There's also no scarcity of choices. Your jawline can be slimmed, your face can be rounded out, blemishes and bags under your eyes can be removed, your teeth can be whitened, your nose can be narrowed, and more.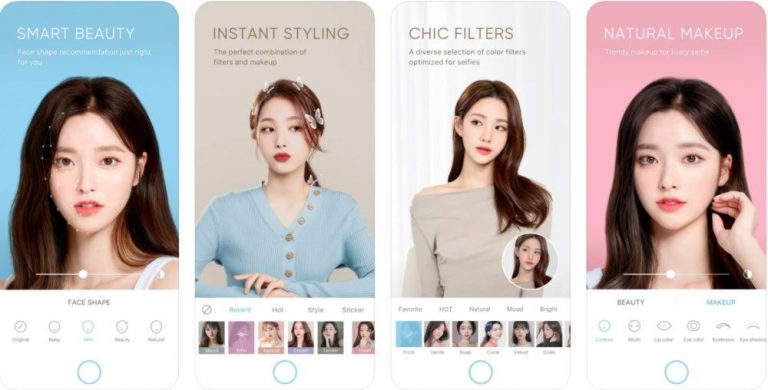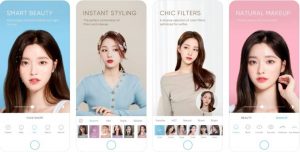 Makeup effects can also be applied to your lips, eyelashes, and brows. SODA allows you to make real-time enhancements, allowing you to achieve the perfect shot much faster and with less back-and-forth between filming and editing.
You can always use one of the presets if you're really tight for time. Overall, SODA is a great app for capturing better selfies with your iPhone. There are no intrusive pop-up advertising, which is unusual for a free programme.
Pros
Real-time editing
Touchup and digital makeup effects
Facial tracking for editing your face shape
No ads despite being a free app
Cons
4.Best for Vintage/Retro Photos: Dazz Cam
If you want to rapidly achieve a retro or vintage style in your images, Dazz Cam is the ideal option. Normally, you'd take a regular shot and then apply filters to it in an editor. You may use this software to apply these effects in real time with little to no effort.
The app is simple to operate. Only a camera model and, in rare circumstances, a filter or lens are required. While you're shooting, the app recreates the appropriate look and feel. The outcomes are remarkably accurate. For example, the DCR option authentically inserts in timestamps suggestive of a camcorder.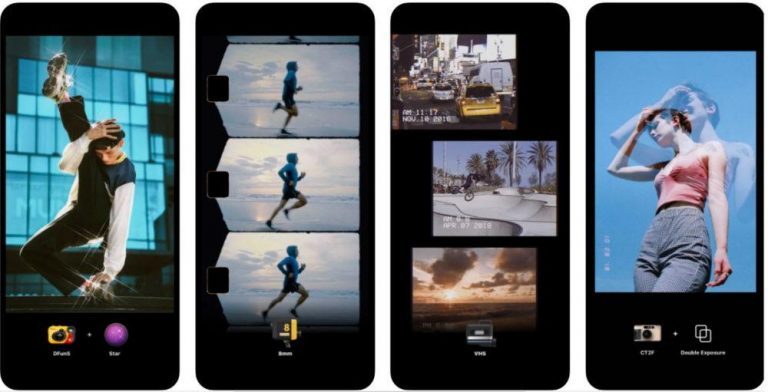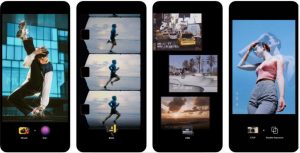 There are numerous vintage models to pick from, including analogue and digital versions. Some are available for free, while others must be purchased separately or as part of the Pro version ($12.99). While the ease of use is commendable, the ability tweak at least some of the camera effects would have been beneficial.
It also lacks several of the regular capabilities of the iPhone camera app, making it less usable for anything other than creative photography. The Dazz Cam, on the other hand, does the finest job of imitating retro camera looks with no work on your part.
Pros
Easy to use
Faithfully recreates the look of classic cameras
Cons
Lack of adjustment controls
5.Best for Long Exposure Shots: Slow Shutter Cam
Effects like motion blur and light trails were previously only feasible with an SLR camera with manual shutter speed control.
Slow Shutter Cam, for example, allows you to perform the same thing on your iPhone. Rather than only controlling shutter speed and ISO, the app also has other features that make long exposure photography easier than ever.
Trail Mode, for example, makes it simple to light paint without having to fiddle with the settings. This camera trick entails holding the shutter open long enough to capture the movement of a bright object, resulting in light "trails" in the final image.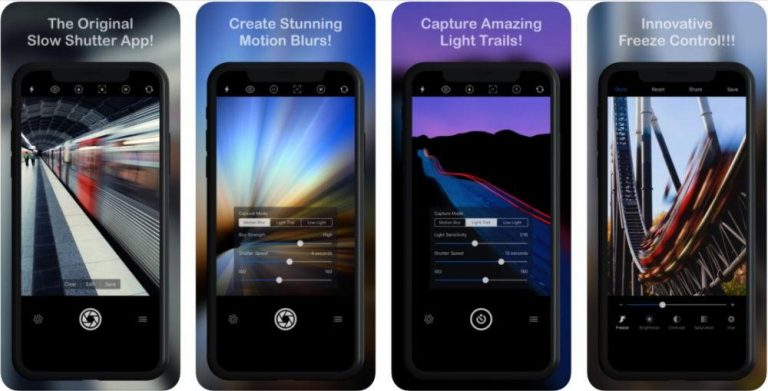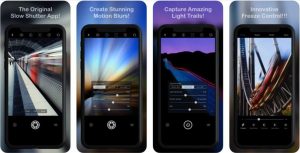 With the Blur Strength and Freeze settings, you may enhance or diminish the long exposure effects. The app's only flaw is that it performs poorly in low light. Darker photos appear hazy or with slightly altered hues, according to several users.
Because of their upgraded camera hardware, the latest iPhone models perform better in night mode in the native camera app.
However, you do not have access to the additional features and setting options. Even so, especially on older iPhones, if you want to experiment with slow exposure effects, this app is the best and most cost-effective solution.
Pros
Manual shutter speed control
Additional settings for enhancing low exposure shots
Easy to use
Cons
Mediocre low-light performance
6.Best for Low Light Shooting: Night Camera HD
Many of us may need to shoot in low-light situations, which is why the Night Camera app merits a spot on your iPhone's home screen. The ability to manually adjust both shutter speed and aperture is the app's core feature, allowing you a precise level of control for low-light shooting.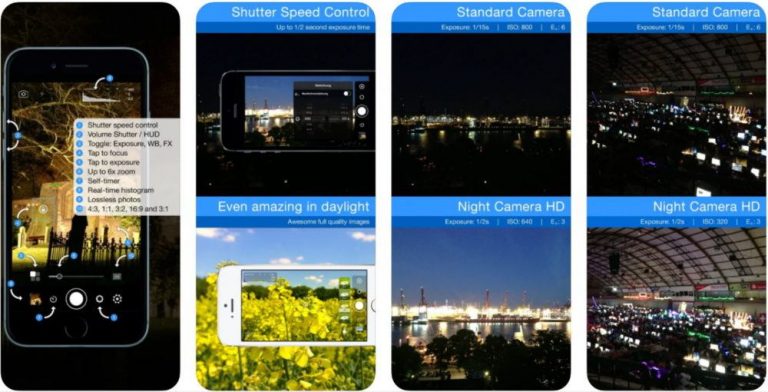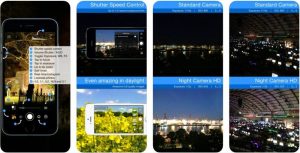 A "low light enhancement" toggle allows you to brighten the photo even more for better exposure. The live histogram is one of the most useful aspects of this programme. This displays the colour and brightness data of the subject you're photographing, indicating whether it's under or overexposed.
Night Camera HD, on the other hand, is a highly specialised programme that is solely helpful for its original function. If the $2.99 price tag bothers you, there is a free version available, but you'll have to live with obnoxious pop-up adverts.
Pros
Excellent in low light conditions
Histogram displays
Cons
Limited use outside of low-light photography
7.Best Camera App for Creative Shots: Spectre Camera
Spectre Camera has the distinction of being the most advanced camera app on the list. It is, after all, the only one with artificial intelligence and machine learning to assist you in taking better images!
Spectre Camera's AI capabilities enable it to generate long exposure effects that would be impossible to achieve otherwise.
It may be used to make crowds vanish, generate light trails, and other spectacular effects.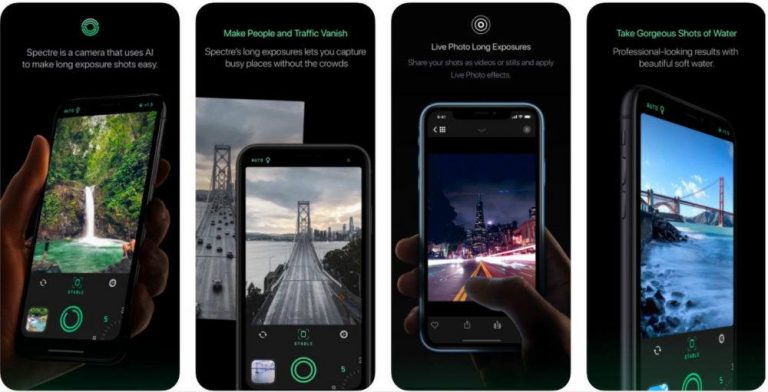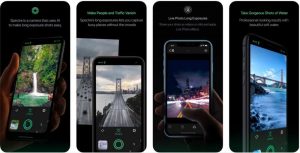 Because AI is used, there are minimal controls to fiddle with.
You also don't need a tripod or a steady hand to get outstanding results. The software does the majority of the work for you and makes adjustments as needed.
However, extending the AI functionality to other features and making the app more well-rounded would have been wonderful.
Spectre Camera is another highly specialised programme, so the price ($3.99) may be a little pricey for some users, but the creativity you can create with it makes it well worth the money.
Pros
Uses AI to achieve long exposure shots with minimal effort
Easy to use
Useful creative options like making crowds disappear
Cons
Wrapping It Up
To summarise, there is no "best" iPhone camera app on this list because each entry serves a distinct purpose. It's possible that you'll use more than one of them at different times. If you want serious photography with sophisticated controls, PRO CAM 8 is the way to go, but if you're on a budget, Yamera will suffice.
The SODA app is hard to beat for selfies, while Daz Cam, Spectre Camera, and Slow Shutter Cam are great for fun and creative images. Finally, Night Camera HD is a fantastic choice for low-light and night photography.