YouTube app comes with a set of pretty cool features that you should definitely explore. If you often find yourself staring at the screen and watching the videos and you should be sleeping, perhaps you should consider setting up a reminder to notify you it's bedtime. If this sounds cool, keep reading. Here, we are going to show you how to enable "remind me when it's bedtime" in the YouTube app.
See also: How to enable "Remind me to take a break" in the YouTube app
How to enable "remind me when it's bedtime" in the YouTube app
We can all agree that the YouTube app works great, and yes, it can be addictive even after all these years. But we may spend a lot of time watching the videos, especially during the night and we simply lose the track of time. You can break the habit by setting up a reminder. Here is how you can do that:
Open the YouTube app on your smartphone or tablet
Tap on your avatar image or your profile photo
Next, tap Settings
On the next screen, tap General located right at the top
You will see a set of options there, tap on "Remind me when it's bedtime"
Once you tap on it, you can choose the start time and end time
In addition, you can tick or untick the option "Wait until I finish my video to show the reminder"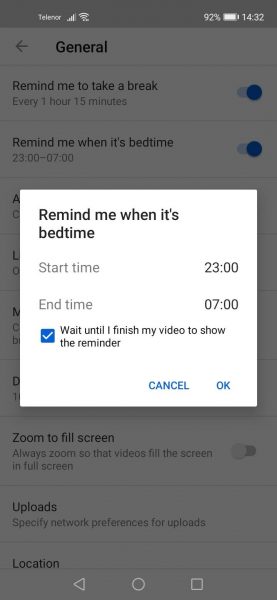 When you are done, just hit OK.
That's it! You will be notified when it's bedtime!