I hadn't purchased a tablet in quite some time. It had been seven years since I'd walked out of a Best Buy in Vancouver, Washington, clutching a new Google Nexus 7. When it came time to replace it, both the tablet market and my requirements had evolved. Because I wasn't living out of a bag anymore, I didn't need to get the smallest model.
I also wanted it to be inexpensive, as spending a few hundred dollars for a tablet nowadays seems exorbitant. That's mostly due to the fact that budget models have improved significantly since 2013, and inexpensive no longer equates to bad. What is the best example of this?
Most of Amazon's Fire tablets have been upgraded in the last year, and they give a lot of tablet for not a lot of money.
It ultimately drove me over the edge when I saw the company advertising a Fire sale (get it?). I took out my credit card, pressed the buy button, and began eagerly waiting outside the door. These are my opinions on the Amazon Fire HD 10 after a week of consistent use. Note that this is a review on the 2019 Fire HD 10 model. Amazon has now launched the 2021 version, which is somewhat smaller and features minor specification improvements but otherwise remains essentially unchanged.
Hardware
For a long time, Amazon's tablet hardware has been quite good value for money. While other budget tablets appear and operate like the low-cost gadgets they are, Amazon's hardware and design are a step above, particularly in the "premium" variant, the Fire HD 10. The 10.1-inch display is the most obvious example, a brilliant 1920×1080 display with clarity and colours that are among the best at this price bracket.
You'll be more than delighted if your primary usage for this tablet is to view HD material on Netflix (or, as Amazon prefers, Prime Video). The majority of the connectors and controls are located on the tablet's top: a USB C charging port, headphone jack, power and volume buttons, and a microphone. The right edge has a covered microSD slot, while the left edge has dual speakers.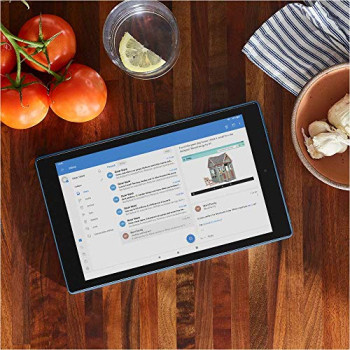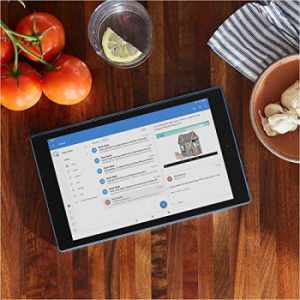 Those speakers won't blow you away in terms of sound quality, but they'll suffice for watching TV and listening to music in the background. The device's rear is covered in textured plastic in one of four colours. I chose blue, however other colours such as black, white, and plum are also available. There's nothing more to talk about save the rear camera and the Amazon logo.
Despite its huge size, the tablet felt comfortable in my hand due to the sticky material. When it comes to cameras, they're… mediocre. Expect to take images you won't want to save with 2MP sensors on both the front and back. The video quality is slightly better, or at least not much poorer, than the webcams found on many computers and low-cost phones. It's not fantastic, but it's not bad either.
That's exactly right: with practically everyone owning a smartphone, there's little use in putting superior camera gear into a tablet that's more difficult to hold steady and may never be used outside the house. It's a decision I can support if it results in a less expensive product. Because none of Amazon's Fire tablets, including this one, have a fingerprint sensor or face unlock, it's back to the "good" old days of entering PIN numbers or passwords to access the screen.
Since the last generation, the processor within the Fire HD 10 has been changed to a MediaTek 8183, which is said to be 30% faster than before. While the tablet's 2GB of RAM isn't much these days, it nevertheless seems snappy, with apps and web pages running swiftly and few of the strange stutters and slowdowns that come with inexpensive Android devices.
You may choose between 32 and 64GB of internal storage, as well as a microSD card slot that accepts cards up to 512GB. When the smaller version arrives, it comes with 25GB of free storage, which should be enough for folks who only intend to install a few apps and stream the majority of their entertainment. Consider the higher size if you want to save a lot of video or music on the device or have hundreds of apps installed at once.
The conversion from a micro-USB to a USB C port is nice for compatibility with other gadgets you're likely to be carrying, but charging times haven't altered much thanks to the low-power 9W charger included in the box. The included charger took just under 3.5 hours to fully charge, whereas a third-party 65W charger took around an hour less.
There's an option to upgrade to a better 15W charger, but it should really just come standard. Charging the Fire HD 10 takes a long time, but you won't have to do it very often. The battery life is rated at "up to 12 hours of reading, browsing the web, viewing movies, and listening to music" by Amazon, and unlike many other claims, I found it to be rather true.
Streaming HD video for five hours at two-thirds brightness depleted the battery to 60 percent, while reading for another two hours depleted it to 47 percent. Based on that, the 12-hour battery life claim seems pretty plausible, and depending on what you're doing, you might even get a little more.
Software
Amazon's strategy for gadgets is straightforward: sell good hardware at low rates and make money off of services. It's worked wonders for Amazon's Alexa smart speakers and Kindle e-readers, and it's evident that the company is doing the same with its Fire tablets. While the operating system (FireOS) is based on Android, the experience of using it is somewhat different.
With a series of setup panels inviting you to sign into or create an Amazon account, Alexa, Prime, Goodreads, Kindle, and a variety of other services almost from the minute you press the power button, Amazon starts pitching its wares. When you go to the home screen, you'll notice that practically every available space is occupied with default programmes.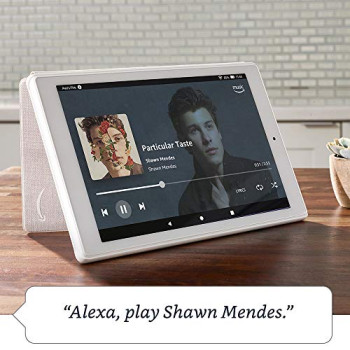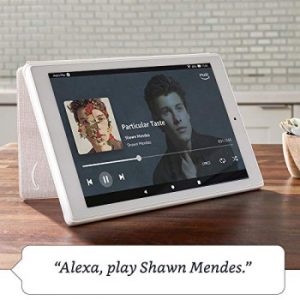 There are over a dozen for Amazon services, with the remainder being generic tools like a calculator, calendar, and maps. You can't delete them, but you can put them all in a single folder and forget about them. With a swipe or press, you may access a number of other tabs, all of which correspond to ways that Amazon makes money. Books, video, a store, and music are all available.
You'll be shown stuff that "may interest you" by default (i.e., things Amazon wants you to buy), but you can turn that off. The tabs will remain, but they will only display items you've already purchased. Even the lock screen is a full-page advertisement for something you can purchase on Amazon.
If those adverts irritate you enough, you'll have to pay $15 (or the equivalent in your local currency) to have them removed. The most significant difference, though, is the availability of apps. The Play Store, as well as the rest of Google's apps and services, aren't pre-installed on Fire tablets. Amazon has its own app store, and while it offers a good variety that covers most needs, the collection isn't quite as extensive as Apple's.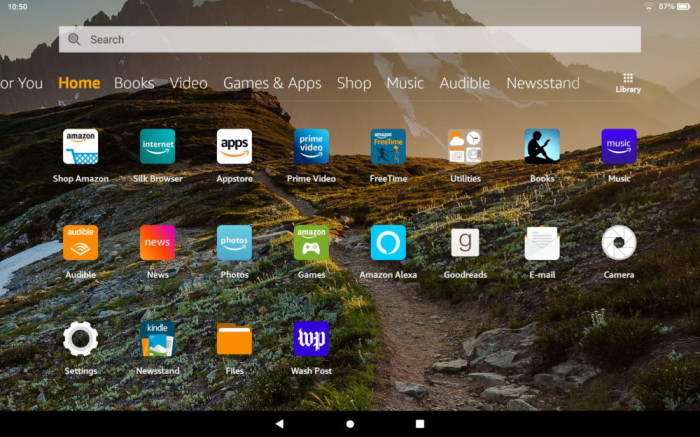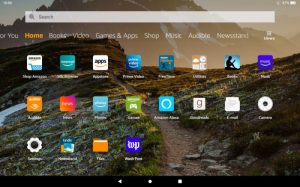 How important this is will be determined by how you want to use your tablet. You'll scarcely notice the difference if you're already a part of the Amazon ecosystem. Similarly, it won't matter if all you want to do is watch Netflix, surf the web, check the weather, and play a few games.
However, if you need to utilise a lot of Google or other Play store-exclusive apps, want to play the latest games, or have more specific needs, you'll likely run into a wall in the Amazon app store sooner rather than later. Fortunately, the Play Store can be installed on the Fire HD 10, and once done, you'll have access to practically all of your favourite apps.
A number of them (like Netflix) make themselves unavailable through the Play store for Fire tablets, but you can usually get them from the Amazon app store. A short Google search will turn up instructions for installing the Play Store on Fire tablets, and while you won't get any help from Amazon if things go wrong, it's also not forbidden.
On the tablet, I tried out around a half-dozen various programmes and games from both the Amazon and Google app stores. Everything functioned as expected, from Netflix and Twitter to the Firefox browser, YouTube, and several news apps. Even demanding games like Asphalt 9 worked smoothly, and utilising Amazon's own tools like the Kindle, Audible, and shopping apps went as smoothly as you'd expect.
In a more realistic test, I used the tablet for a couple of hours each day, reading articles, checking social media, watching shows, and looking for recipes to use up the strange vegetables in my fridge that were ready to expire. I didn't have much to complain about, except from wishing I'd bought a case or stand to set it up on. It simply did what I expected it to do.
Verdict
When it comes to the Amazon Fire HD 10, the hardware and software experiences are vastly different. You won't find a tablet with better hardware for the money: the screen, performance, battery life, and overall appearance and feel are all miles ahead of anything else in this price category.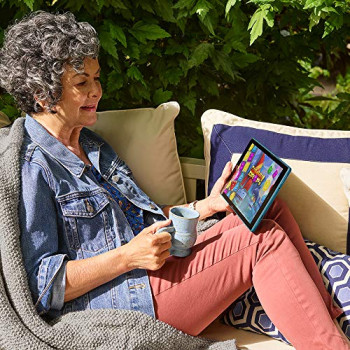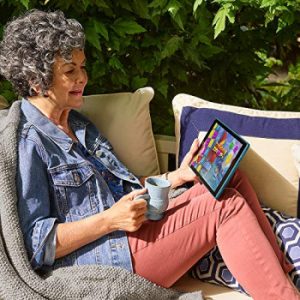 The software, on the other hand, is a different issue, at least for consumers who have demands that aren't met by the Amazon app store or who don't want to be pushed into using the company's services. The former issue can be solved by downloading the Google Play store, but the latter will always exist to some degree.
The Fire HD 10 is a no-brainer if you're searching for a solid low-cost tablet and already utilise a number of Amazon services. If you want solid hardware at a low price and don't mind being advertised at, this is the tablet to get. However, if you're used to using other Android devices or simply don't enjoy being pushed to spend money in the Amazon ecosystem, your choice is more complicated.
With a little work, you can obtain access to practically all of the apps you're used to, and many of the "nudges" can also be hidden or removed, but there's no mistaking this for a typical Android device. Does it make a difference? The majority of individuals who purchase the Fire HD 10 will say no. It delivers more than tablets costing twice as much, and while there are certain drawbacks, for many people it's a price worth paying. It turned out that it was also for me.